3 perspectives on homelessness
2 Nov 2015
Ending homelessness is a complex challenge and requires a collective effort from multiple people.
These stories highlight the crucial role that legal representation combined with social work support can play in helping survivors of violence move ahead with their lives. Take a look at three perspectives on how one woman avoided the threat of homelessness.
Kelly's story

From the client's perspective
Kelly was forced to move out of her previous private rental property along with her young daughter due to family violence. She sought assistance from Homeless Law when her previous real estate agent brought a claim for thousands of dollars against her, mostly in relation to damage caused by her ex-partner. Through the WHPP, Kelly was provided with legal representation and social work support.
Kelly is a 21 year old single mum. She left the family home young due to family violence, and spent the next few years couch-surfing with friends. During this time she entered a relationship and had a daughter. Very soon after her daughter's birth, Kelly moved into her first private rental property along with the child's father.
Things quickly began to unravel due to Kelly's partner's substance abuse issues. Kelly was subjected to serious and persistent drug-fueled family violence, which also involved significant damage to the premises and made it an unsafe environment for her daughter.
"My greatest fear was for my daughter being hurt. It wasn't even about her father anymore, I just knew with the way things were going that we had to leave."
After a few months, Kelly was forced to flee back to the family home but continued to pay rent as she was afraid she would receive a bad reference for her first private rental property. This soon became unaffordable, and the real estate agent commenced legal proceedings to end the tenancy and claim over $6,000 for outstanding rent and damage at the property. This legal process made Kelly scared and anxious. She hadn't caused the damage, but knew her ex-partner would not take responsibility.
"I couldn't afford to pay everything that the agent wanted, but because my ex was never going to take responsibility I had to find a way. It's unfair to think that I would be the one to end up with a bad rental history because of things he did."
Kelly was referred to Homeless Law and attended an initial WHPP appointment with pro bono lawyers and the WHPP social worker, along with her daughter and mother. Prior to the appointment, Kelly was really struggling to see a way out of the situation, and the post-natal depression she had been suffering from was causing her ongoing problems. The initial WHPP appointment changed her outlook significantly.
"Before that appointment I was struggling, sometimes I couldn't even get out of bed before 1:00pm. It was a really low point…after that appointment though, I felt like there was a plan in place and that I had people on my side."
The lawyers were unable to reach a negotiated outcome with the real estate agent prior to the VCAT hearing, but before the Tribunal member, they successfully argued that responsibility for the damage and unpaid rent should be apportioned between Kelly and her ex-partner. Kelly felt relieved to hear both the lawyers and VCAT member explain the unfairness of her situation to the real estate agent, which ultimately led to a legal order by consent that she was only liable for $900 of the original amount claimed.
"It was great to have legal representation at the hearing. When things got complicated and technical, the lawyers would speak for me. I think it would have been difficult without that. And when the judge told the real estate agent that it was unfair to ask me to pay for everything, I think the agent agreed in the end."
As a result of further discussion after the hearing, Kelly reached an agreement to gradually repay the $900 owing in exchange for a positive rental reference that would enable her to more easily access private rental properties in the future. The WHPP's social worker also arranged a warm referral for Kelly to a youth support service, which has led to her moving into new affordable housing with a range of supports including counselling for family violence and a new computer to help her return to study. Kelly is relieved with this outcome and is now saving money to re-enter the private rental market as a sole tenant, and building a new life with her daughter.
"Both of us are a lot happier. Just spending time with her everyday – it's a lot happier now. The first year didn't feel so happy, when it should have been the happiest of my life, but we got through it and my daughter has changed dramatically, in a good way. Now we're both doing really well."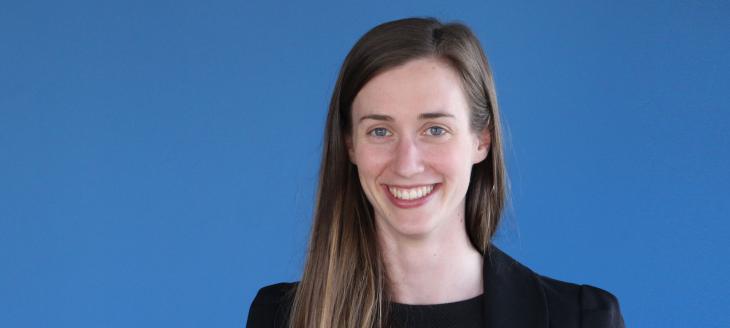 Isabelle's story
From the lawyer's perspective
Isabelle is a lawyer at Herbert Smith Freehills who also does pro bono work with Homeless Law through the WHPP. Along with another pro bono lawyer, she provided legal assistance to Kelly and helped her have a tenancy compensation claim reduced by several thousand dollars at VCAT.
Prior to the initial WHPP appointment, Homeless Law had provided Isabelle and her colleagues with a detailed summary of Kelly's circumstances and the background to her legal issue and the real estate agent's claim. This gives Homeless Law lawyers a good understanding of the type of legal assistance a client requires, and importantly in Kelly's situation, prevents them having to retell a difficult story from scratch.
From the initial appointment onwards, Isabelle felt that the combination of legal representation and social work support provided through the WHPP helped Kelly to feel more at ease with the process, and more comfortable discussing the sensitive family violence background to Kelly's legal issue.
"Our job is made 100 times easier by having Antoinette there. She is incredibly sensitive and is really attuned to the client's needs and she helps us assist the client in a way that we couldn't do just being lawyers."
After taking detailed instructions from Kelly at the initial client appointment, Isabelle and her colleagues continued working on Kelly's matter in the lead-up to the VCAT hearing. It quickly became apparent that Kelly was being held responsible for damage cause by her violent ex-partner, and that she would not be able to afford the amount claimed.
"The real estate agent had tried to contact Kelly's ex-partner but he never responded. Kelly was determined to be more responsible… She was worried about the impact it would have on her ability to access housing in the future."
During negotiations with the real estate agent, Isabelle explained that there was a legal basis for dividing the compensation claim up between Kelly and her ex-partner. In the lead-up to the VCAT hearing, Isabelle noticed that the real estate agent's attitude changed, and she became more sympathetic.
"I think the process was also an education for the real estate agent. Once we discussed the idea of apportioning the loss, and the VCAT member seemed to be on board with this, I think the real estate agent softened and became supportive of Kelly. I think this outcome changed the real estate agent's attitude as well."
When the VCAT process had finalised with Kelly's liability reduced by several thousand dollars, Isabelle summed up the benefits of legal assistance for Kelly:
"My impression was that if we had not had helped Kelly, she would have been willing to pay all the money that was being claimed just to get this sorted out for her and her child."
Instead, through legal representation Kelly's debt was reduced by several thousand dollars, and she was able to enter an agreement with the real estate agent for the money to be gradually repaid and a positive rental reference provided.
For Isabelle, helping Kelly to achieve this outcome is a perfect example of why she does pro bono work with Homeless Law.
"I get to assist people in the community who are vulnerable and unaware of their legal rights and it's really empowering for me as a lawyer to know that I have had a direct impact on someone's life, in what can be a really scary situation."

Antoinette's story

From the social worker's perspective

Antoinette is the WHPP's in-built social worker. She has worked in the housing and homelessness sector for over 10 years and uses her expertise, knowledge and relationships to provide WHPP clients with a range of non-legal support. She attended Kelly's initial client appointment along with pro bono lawyers, and provided non-legal assistance to Kelly with a range of issues.

"Twice family violence has derailed life for Kelly, and both times it put her into housing crisis."

Kelly's story is similar to many clients Antoinette has worked with, particularly in relation to the disruptive effect that family violence has played in her life. Kelly was first exposed to family violence during her childhood, and fled home to escape it, spending a few years couch-surfing and staying with friends, but never anything stable.

As can often be the experience of Antoinette's clients, Kelly's falling pregnant led to further family violence, and as this violence escalated, Kelly became fearful she'd lose her child.  She was forced to escape the property back to the family home she had initially fled from.

"Like so many women, Kelly had trouble believing that she was a victim of violence again, and that new parenthood, which should have been the happiest time of her life, was fraught and terrifying."

Kelly knew she couldn't stay in her family home long term but was anxious to avoid a bad tenancy history as a result of rent owing and damage at the property she'd fled. It was from this desire to avoid future problems getting housing on her own that Kelly reached out for assistance from Homeless Law.

When Kelly presented at her initial WHPP appointment, she bought her mother and young daughter along. The large interview room enabled Kelly's mother to play with her daughter while Kelly spoke with the WHPP team, and Antoinette helped support Kelly in the telling of her story.

"Sometimes the women feel anxious and quite rightly, cannot help but be emotional telling their stories. I think that my being there really supports them to go there, retell some often terrible things, including important things that lawyers might not always think to ask about."

Antoinette could see immediately that there were a range of non-legal issues Kelly needed assistance with, and that given her relatively young age, Antoinette would be able to make a warm referral to youth-specific services that could provide intensive casework support.

"I spoke with Kelly at length during the initial appointment, and very soon afterwards I was able to make a warm referral to a youth support service, which avoided the trauma of Kelly having to retell her story again."

As a result of this referral, Kelly was ultimately allocated a youth support worker, which led to her being offered new transitional housing and counselling to assist with the effects of the family violence she'd endured.

As legal assistance through the WHPP continued, Antoinette remained in touch with Kelly to provide her ongoing emotional support. When the real estate agent's claim against Kelly was significantly reduced at VCAT, Antoinette spoke with Kelly about the outcome to congratulate her and learned that the new housing stability had led to a significant improvement in Kelly's child's sleeping and temperament, which Kelly was thrilled about. Kelly's youth worker had also arranged a computer for her, as Kelly would soon be returning to study.

For Antoinette, Kelly's story is a prime example of the effectiveness of combining legal representation and social work support to assist women at risk of homelessness.

"In social work, we are used to wearing many hats and trying to be across mental health, housing, alcohol and addiction issues. The law is not one of those things – we cannot give legal advice and so working side by side with lawyers adds so much. The clients really feel that they have an expert team, and one that is cohesive and working together for the best outcome. The WHPP is amazing, it's the most effective I have ever felt as a worker."