Our 2024 Strategy: Reaching more people and community organisations
8 Jul 2021
In the face of an increasingly challenging and dynamic environment which is driving demand for legal help, Justice Connect is proud to launch our 2024 strategy – developed to increase our reach, impact and sustainability.
Putting the needs of people and communities at the heart of everything we do, our 2024 strategy confirms our commitment to high impact interventions that increase access to legal support and progress social justice.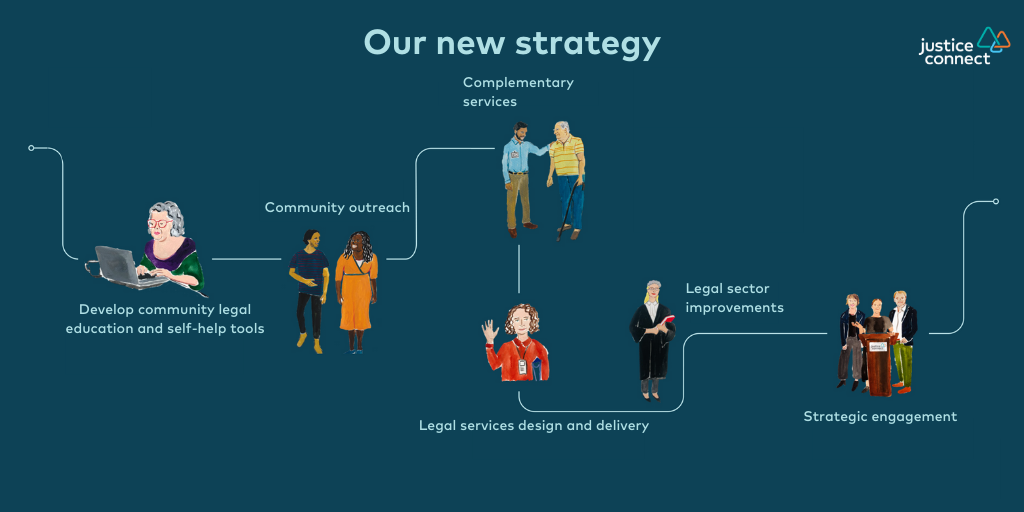 We focus on designing and embracing the most effective interventions in order to help as many people and organisations impacted by legal problems, while also working to address the system-level drivers of these problems.
The challenge
Our strategy draws on our 30 year legacy and strengths, and faces into our challenging external context. Across that time, unmet legal need has remained stubbornly high for a wide range of individuals and not-for-profit organisations, and the impacts of that unmet legal need have continued to entrench inequality.
Under-investment in community legal services and compounding crises – which are driving up unmet legal need – are increasingly affecting communities and threatening their wellbeing. Technology is also rapidly evolving, bringing both challenges and opportunities.
Our strategic directions
Our theory of change captures the ways in which we are focused on the design, delivery, evaluation and research required to deliver effective and high impact responses. We've set out a refreshed purpose, vision, and 3 strategy directions that will enable us to have a meaningful impact on access to justice for the many people and organisations who cannot access help:
Extending our reach and impact through digital strategies;
Amplifying the impact of our services, data and insights through strategic engagement to drive systems level change;
Aligning behind common organisational goals, operating impactfully and efficiently.
Find out more
Help us realise our 2024 strategy to design and deliver high impact interventions to increase access to legal support and progress social justice by contributing today.
Read more of our latest Fair Matters articles