National Pro Bono Day: How Justice Connect is building an active pro bono community for social justice
16 May 2023
Today on National Pro Bono Day, we are celebrating the incredible impact of pro bono barristers and lawyers across Australia in helping Justice Connect increase access to legal support and progress social justice.
The legal profession's appetite for pro bono continues to grow. Findings from the Australian Pro Bono Centre's 2022 National Law Firm Pro Bono Survey show that average pro bono hours by lawyer by year has risen to 36.4 hours. Therefore, the ecosystem's ability to enable lawyers to take part in meaningful pro bono is becoming more crucial in meeting the justice gap.
At Justice Connect, the contributions of pro bono lawyers are central to our scale and impact. We're proud to count 53 of Australia's best law firms as members of our pro bono community. This valued network of over 10,000 pro bono lawyers offer their time, expertise, and dedication to deliver free legal help to the people and community organisations who need it. We also work with a broader group of 170 law firms to coordinate the delivery of pro bono legal help to disaster-affected communities across Australia.
In FY22, pro bono assistance provided through referrals, clinics, and project work with Justice Connect totalled more than 53,219 hours. This is estimated to be valued at over $20,584,322.
Our research to understand the experience of our pro bono partners
At Justice Connect, we're focussed on ensuring that the impact of pro bono is understood and maximised to the benefit of people and community organisations being left behind by the legal system.
We recently conducted research with our pro bono partners to better understand their experience of engaging in pro bono work with Justice Connect, and the life-changing outcomes they were achieving for our clients. This research included participation from pro bono heads & coordinators within our member firms, lawyers who assisted in our clinics, as well as lawyers and barristers who had assisted on a referral from Justice Connect.
By focussing on the experience of the barristers and lawyers who undertake pro bono work through Justice Connect, we are able to refine our ways of working and build our understanding of the impact of pro bono assistance.
The findings illustrate the many benefits meaningful pro bono opportunities have on both clients and lawyers alike.
Finding: Pro bono assistance helps to resolve and prevent legal problems
We focussed on insights from our pro bono network on the outcomes achieved for clients through clinics and referrals, as well as legal problems that were prevented through pro bono assistance.
The research indicated that pro bono lawyers were able to resolve or prevent legal problems in 84% of cases, whereas barristers identified being able to resolve or prevent legal problems in 77% of cases.
Of those matters where a poorer outcome was identified, the reasons given were often linked to a lack of merit, losing contact with the client, or differing opinions of a 'good outcome' between the lawyer and client.
This reaffirms what we know at Justice Connect: our pro bono networks are invaluable in achieving positive outcomes for people in need of legal help in the clear majority of cases, and that the pro bono contribution of our members stops people from falling into pervasive justice gaps and improves the overall wellbeing of our communities.
"We are so lucky at [firm] to be able to get involved with pro bono work. It enriches our daily work life by giving us the opportunity to work on different matters with different clients. We then have the added bonus of helping those in need."
Finding: Skills from pro bono accelerates lawyers' development
Apart from being highly valuable to Justice Connect's clients, we know that engagement with pro bono work provides lawyers and barristers with the opportunity to build and develop new and diverse skills from those used in day-to-day practice.
For pro bono lawyers engaged with our Access Program clinics (Federal Self-Representation Service, Victorian Self-Representation Service and Domestic Building Legal Service), we found that there is a myriad of skills gained from their direct work with clients in need, which held professional value for lawyers at every career stage.
For lawyers who had 10 or more years of post-admission experience, the highest rated skills gained were better understanding of the issues affecting clients, and dealing with non-legal issues.
For lawyers who had less than 10 years of post-admission experience, the highest rated skills gained included client management, identification of legal problems, and writing and drafting skills.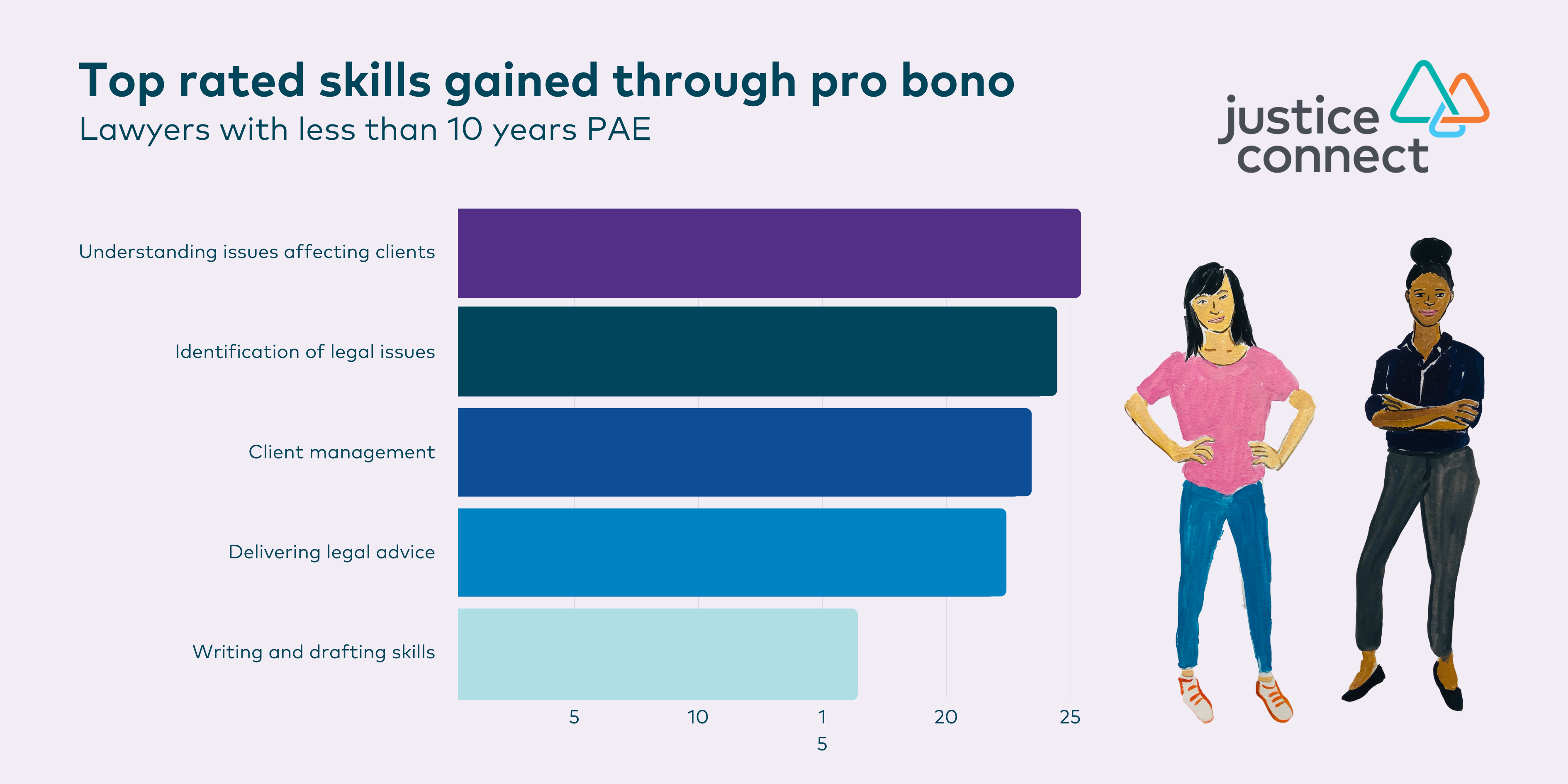 "I have loved the whole experience, it has been fantastic to learn more about another area of the law whilst also being given so much autonomy on a file."
At Justice Connect we're committed to fostering an active pro bono community that enhances the legal profession's willingness and ability to respond to unmet legal need, and has tangible impacts on the wellbeing of our communities.
On National Pro Bono Day, we thank our member firms, lawyers, and barristers for their ongoing support of Justice Connect, and their commitment to addressing the unacceptably wide justice gap in Australia and beyond.
See our pro bono members