'Seeking Legal Help Online' report wins 2021 Good Design Award in Design Research
12 Oct 2021
We are proud to share that our Seeking Legal Help Online: Understanding the 'missing majority' report was awarded an accolade in the Design Research category by Good Design Australia.
Online self-help resources are especially important for people who can't afford a lawyer or access free public or community legal assistance – an ever-growing cohort we call the 'missing majority'.
The design principles presented in our report offer research-informed best practice guidelines for the development and deployment of online self-help resources across the legal services sector. The recommendations focus on how to involve people with lived experience and relevant professionals in funding, researching, designing, testing, implementing, promoting, and evaluating online self-help resources.
The Good Design Awards Jury commented:
"An important, socially worthwhile research project which demonstrates how design can assist people with legal matters that are often a confusing and fearful situation. This research can help millions of low-to-medium income earners in Australia who are falling through the gap between what government funded systems can provide and the legal services they cannot afford. It demonstrates how design can help solve tricky, real-world problems. Well done."
Given ongoing disruptions to in-person services, and an increase of people looking for legal help online, these design principles offer a significant opportunity for our sector to improve our resources and services through human-centred design, and increase access to justice.
What we learned: key insights from our research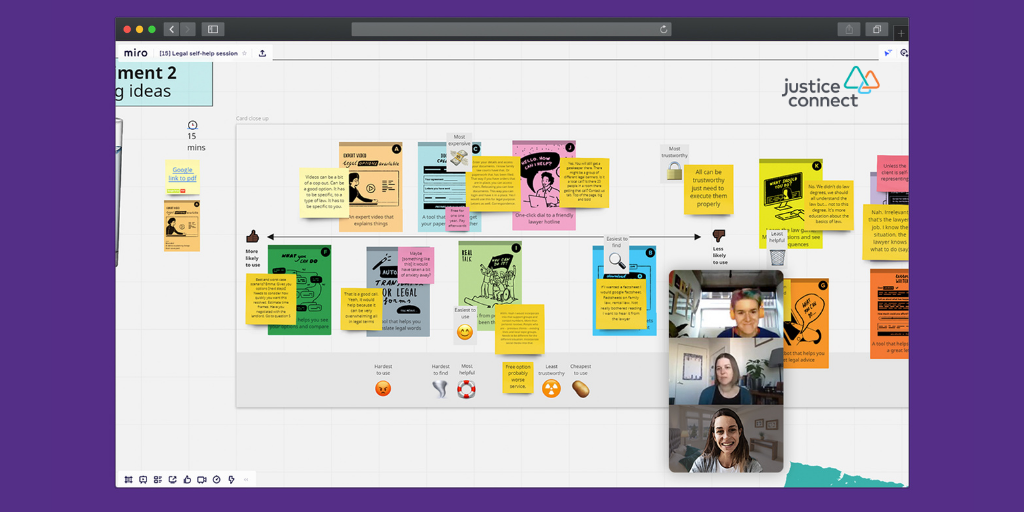 Using Zoom and Miro, participants were involved in a card sorting activity, ranking online self-help resources by likelihood to use.
Using a human-centred approach to design research, we recruited 15 Victoria-based participants from priority groups disproportionately impacted by inaccessible and poorly-designed legal resources including recent migrants, people with disability, single parents, and people living in regional, rural or remote areas.
We found that a key barrier to engagement isn't capability, but rather poorly designed legal information. Other insights include:
1. Help-seeking starts with an online search
Almost without exception, a Google search is the first step in a person's attempt to resolve a legal problem on their own. And while most people initially search by describing their problem in everyday language, some search specifically for organisations.
Not all people start their search knowing that their issue has a legal dimension. Even if someone has interacted with the legal system before, or has a high level of English literacy and digital capability, they can still find themselves in a highly stressful situation and feel anxious in their journey to solve a legal problem on their own.
2. Visualising the legal self-help journey can help organisations better understand a consumer's needs
Legal processes and language are especially confusing for people who haven't studied the law or been through the justice system. Poor information design can also increase people's levels of stress, anxiety, and confusion when seeking legal help, especially when money or their family are concerned.
Tools like 'journey maps' can help organisations map out a person's shifts in behaviour and mindset in their process of solving a legal problem online, and inform resource design that can help people feel calm and empowered.
3. How legal resources could be improved
Giving consumers an avalanche of information, dense legal jargon, irrelevant or contradictory advice only overwhelms people and worsens their experience. Some people with disability cannot access or use online information when resources aren't designed with their needs in mind.
By investing in accessible design and user experience, and involving people with lived experience in funding decisions, research, design, implementation, and evaluation, we can vastly improve outcomes for legal help-seekers.
Read the full report
This research was carried out by Jo Szczepanska, Emma Blomkamp, Raquel Dos Santos, Jacqui Siebel, Zoe Chan and supported by the Victoria Law Foundation.