Workers' Resource Hub: Co-designing resources to empower frontline workers supporting Victorians facing homelessness
16 Aug 2023
Ending the cycle of homelessness in Victoria requires targeted, systems-level change. Justice Connect's decades of legal expertise has shown us that each link in the community services system has a flow on effect on a person's legal outcomes. Our new Workers' Resource Hub supports social workers and other caseworkers to identify and navigate legal issues for clients, particularly people facing homelessness.
The Workers' Resource Hub is a searchable, intuitive online suite of legal resources designed for community workers on the frontline of supporting people facing homelessness. It can be accessed anytime, from any device, and completely for free.
Frontline workers can benefit from resources, factsheets, and templates on common legal problems that people facing homelessness experience, including tenancy, housing, consumer debt, criminal law and intervention orders. Co-designed with our community partners, the hub is built to reflect how frontline workers search for information and work with their clients to find solutions.
Explore the Workers' Resource Hub
Supporting workers on the frontline of Victoria's housing crisis
Through Justice Connect's integrated legal and social work services, we know that Victorians facing homelessness often have multiple, intersecting legal needs. These legal needs can go unnoticed, which only further compounds their complex circumstances.    
Community-based support workers are vital in helping people facing homelessness address their legal needs. However, the complexity and breadth of legal problems means frontline workers and their clients often face challenges navigating the justice system, understanding and enforcing rights, or accessing legal services.
Recognising this gap, the Workers' Resource Hub was built to increase frontline workers' capacity to address their client's legal needs. Our suite of resources will give frontline workers in Victoria access to plain-language legal information, so they can better identify legal problems and connect their clients with wrap-around supports to resolve legal issues before they escalate.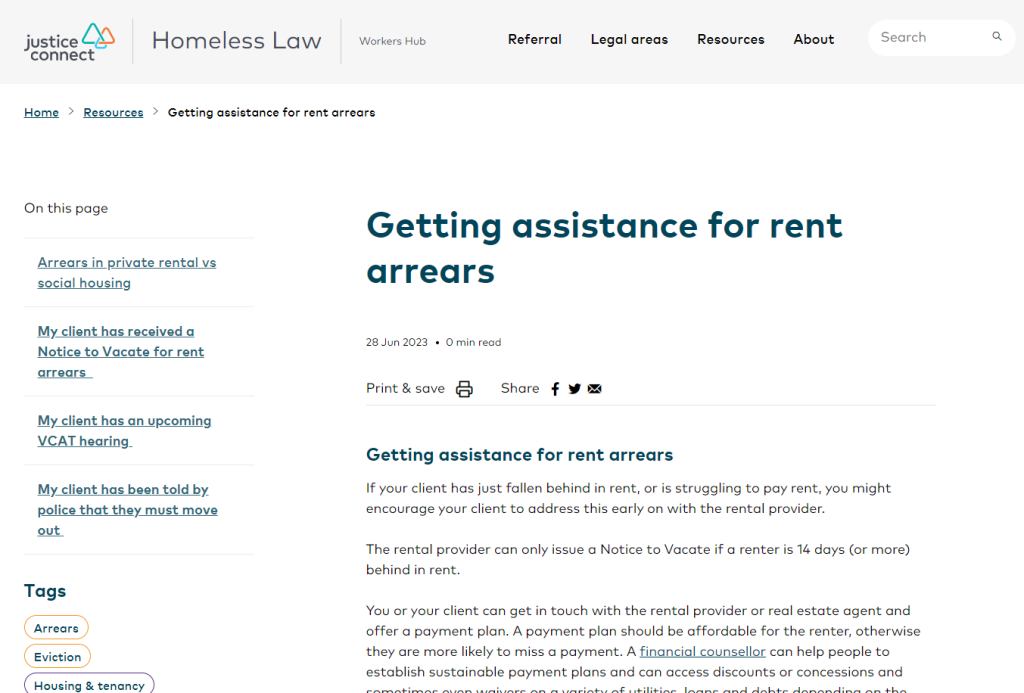 Workers' Resource Hub resource on getting a client assistance for rent arrears
Scaling legal help with digital solutions
Justice Connect harnesses digital solutions to scale our reach and impact. We know that not everyone with a legal problem requires a lawyer to help them one-to-one. We also know that not everyone knows their situation might have a legal solution. Sometimes, a little bit of legal information can help people to learn about their rights and take action to improve their situation.
Our award-winning Dear Landlord tool embodies this approach of one-to-many legal help. Through a series of questions, Victorians facing eviction are guided through tenancy laws, learn about their options, and generate letters unique to their situation. In FY22, Dear Landlord generated over 835 customised legal documents, demonstrating the immense scale of legal help that online strategies can facilitate.
The Workers' Resource Hub marks our next step in using digital strategies to increase access to expert legal support for people facing homelessness, by being a free online source of information for workers on the frontline of homelessness.
Co-designing with community partners
In designing the Workers' Resource Hub, we were guided by best-practice and human-centered design strategies that are the hallmarks of all Justice Connect's digital products. We took a research-intensive approach to developing and building the hub, seeking feedback from frontline caseworkers throughout the design process. When creating digital products, we work to incorporate the unique needs of the cohorts we design them for.
The Workers' Resource Hub was built following an extensive user-centred, co-design process involving specialist workers from across the Victorian community sector. Justice Connect's Under One Roof project embeds our lawyers and social workers with frontline community support providers to help people avoid or exit homelessness. We worked closely with our community support partners through Under One Roof to inform the design of the Workers' Resource Hub.
In a survey conducted with over 30 caseworkers across our embedded community partner organisations, we learnt about their ways of working, and the barriers they face when supporting their clients to navigate legal problems. As a result, the hub has been designed to provide straightforward information about a client's options at the time of need. We have also embedded information about referrals to legal support for when clients and caseworkers aren't able to navigate legal issues alone.
Most caseworkers reported that they would share the information accessed through the hub with a client. Although many would research solutions to a client's issue using their laptop or computer in the office, most were likely to show relevant information to the client using a mobile phone. That is why our hub is fully mobile-optimised and available to use whenever the need arises, even in time-pressured situations, thanks to smart navigation features such as a word cloud of legal issues on the hub's homepage.
Workers' Resource Hub homepage, with word cloud smart navigation feature
We hope the Workers' Resource Hub serves as a trusted resource within the Victorian community sector. With the hub's help, caseworkers will be able to actively promote self-advocacy and successfully identify how to tackle legal problems affecting their clients.
Explore the Workers' Resource Hub
Justice Connect's Homeless Law provides integrated legal and social work services to people who need it most, and uses client and casework evidence from this work to reform laws, policies and practices that disproportionately impact on people facing homelessness.
Justice Connect is grateful to all of our generous funders, and particularly acknowledges the Portland House Foundation for providing significant, visionary support towards the development of our new Workers' Resource Hub. We also want to recognise the community workers who generously shared their insights and contributed to bringing the online Workers' Resource Hub to life.