Dear Landlord: intervening early to prevent evictions during COVID-19
20 Dec 2021
Dear Landlord is our free self-help tool supporting renters in Victoria to avoid eviction and stay safely housed. Launched in 2018, Dear Landlord aims to help people understand their rights, build confidence, and take steps early to get back on top of their rent payments.
We've taken a human-centered design approach to developing Dear Landlord, using co-design workshops, 1:1 in-depth interviews, feedback surveys, and rigorous user testing to continuously deepen our understanding of renter's needs when facing eviction.
Using these insights, Dear Landlord was re-launched in March 2021 to reflect Victoria's sweeping new rental laws, and to address the ongoing impact of COVID-19 on renters.
This report shares our summary of learnings and insights from the first six months of the new rental reforms (29 March to 30 September 2021).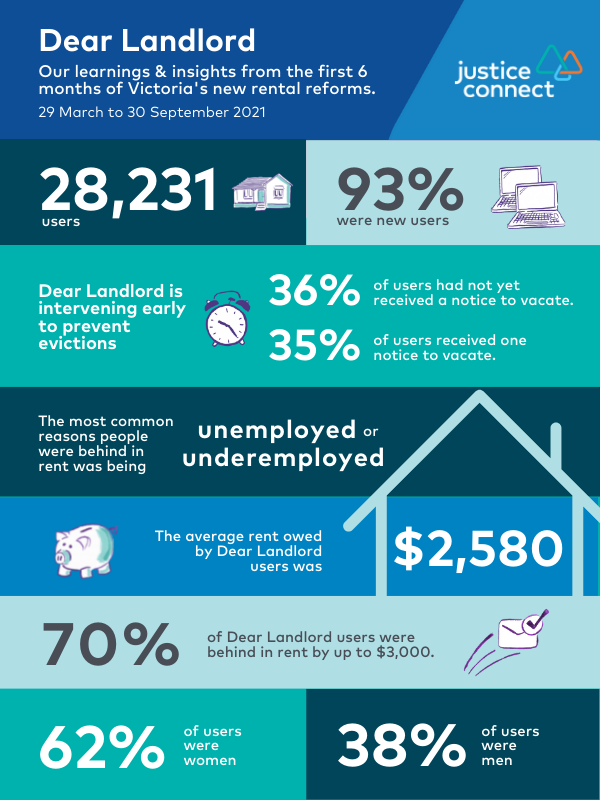 There was a spike in evictions once renter protections lifted
In March this year, the 12-month COVID-19 eviction moratorium came to an end, and new rental reforms were introduced in Victoria. Dear Landlord was updated and relaunched on 29 March to help Victorian renters navigate these new developments.
In the first six months of the new rental laws, Dear Landlord was accessed by more than 28,000 users. This was a 115% increase in users from the previous six months, reflecting the increase in renters facing eviction for unpaid rent. This aligns with the spike in demand for Justice Connect's integrated services, with a 95% increase in people facing eviction for falling behind in rent, 70% of whom were women.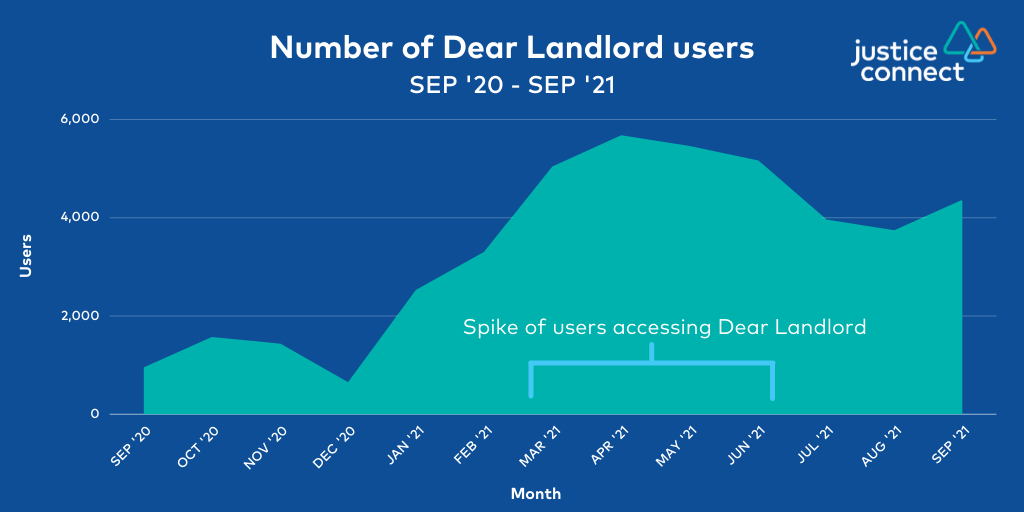 The average amount of rent arrears per Dear Landlord user was $2,580. 70% of users were behind in rent by up to $3,000, while 2% had accrued arrears above $10,000.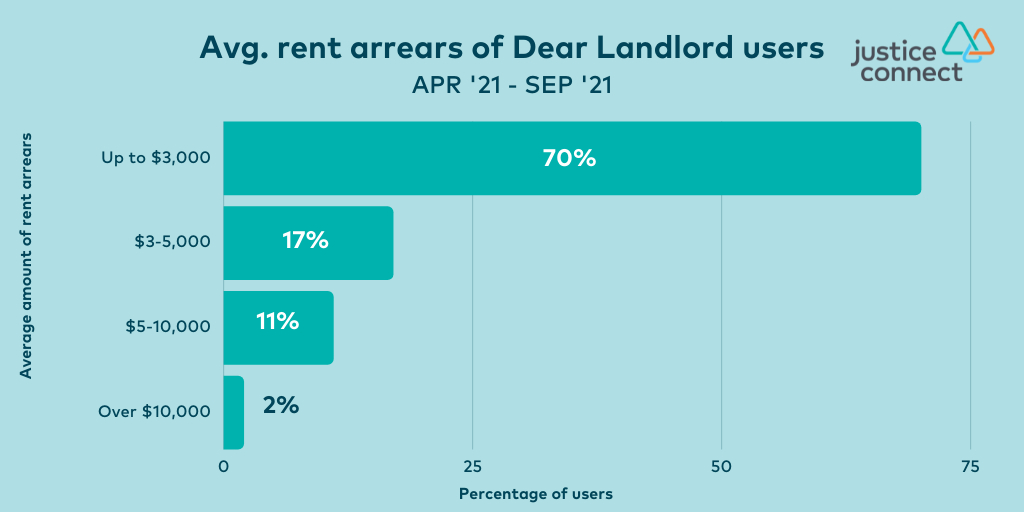 With the rollback in COVID-19 government supports, and with savings and early superannuation payouts dwindling, renters continued to face more financial hardship than ever before. Being behind in rent upwards of $2,500 puts pressure on daily living expenses, and is difficult to pay off without extra financial support, leaving renters at real risk of eviction. However, these figures also indicate that with the right combination of targeted financial and legal support, many Victorian renters can be supported to pay off their rental debts and stay safely housed.
Women are disproportionately at risk of eviction
The pandemic has also exacerbated women's housing and financial insecurity. This was reflected in the overwhelming use of the Dear Landlord tool by women, with more women (62%) using Dear Landlord compared to men (38%).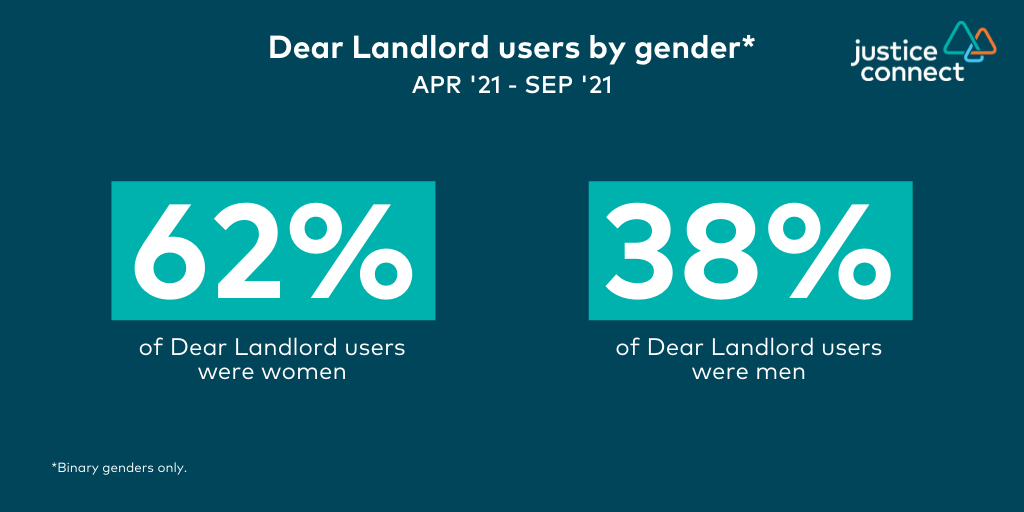 For many of these women, family violence was reported as one of the reasons they were unable to pay rent. Research has shown a surge in family violence since COVID-19, with one study showing that in the first 3 months of the pandemic, 5% of women surveyed experienced family violence. Many of these women were experiencing family violence for the first time.
The other overwhelming responses received through Dear Landlord point to unemployment and underemployment as the key reason why renters were unable to pay rent. Many people seeking help were unable to meet financial obligations, particularly when additional COVID-19 specific support such as JobKeeper and the JobSeeker supplement ended. This impact was particularly felt by women, who are three times more likely than men to work part-time, and represent a significant portion of the casual workforce. Women were less likely to receive government support because JobKeeper payments excluded short-term casuals, which mostly affected women in the hardest-hit industries. At the peak of the pandemic crisis, almost 8% of women lost jobs compared to 4% of men.
We are in a current context where women's homelessness is increasing – there was a 27% rise between 2006-2016, and 60% of people supported by specialist homelessness services are women. We also know that a rental property in any major Australian city costs a single mother working part-time between 40-70% of her income. Specialised and targeted support to women is critical to avoid preventable evictions into homelessness.
Prevention is promising
Between March – September 2021, 71% of Dear Landlord users had received either their first notice to vacate or none at all. 36% of those users accessed Dear Landlord to create a payment plan proactively before even receiving a notice to vacate.
"When it's hard to think what to do next in these situations [Dear Landlord] guides you through with current legal advice and helps ease the stress." – Dear Landlord user, May 2021
Dear Landlord builds in housing and financial supports and resources tailored to the user's circumstance. Over the last six months, the highest accessed support link has been to Housing Access Points that administer one-off payments towards rent through the Victorian Government's Private Rental Assistance Program (31% of all clicks on external support links), followed by a link to financial counselling support (12%). This early access to legal and financial support by renters demonstrates the appetite for earlier intervention and the opportunities for tailored, online self-help to act as a preventative tool.
Recognising this hardship, the Victorian Government introduced the COVID-19 Rent Relief Grant in September 2021 to support renters after a series of rolling lockdowns across Victoria. We rapidly added a new rent reduction pathway to Dear Landlord helping renters request a rent reduction, which is one of the many eligibility requirements of the grant. We'll be monitoring the use of these pathways and the effectiveness of the grant, which expires mid-January 2022.
In the six months after the re-launch, 93% of Dear Landlord users were new to the site. Coupled with our data in relation to renters' early use of the tool, this low number of return users provides evidence that effective support upstream leads to longer term, sustainable outcomes by getting on top of rental hardship earlier. We are currently conducting further longitudinal research to better understand the long-term impact of the tool, recognising that there are multiple influencing factors contributing to financial and housing insecurity.
"[Dear Landlord] reassures tenants that we have many rights and options and it's easier to approach a rent provider or agency than one thinks" – Dear Landlord user, May 2021
As we move forward, we will continue to gather insights through Dear Landlord as we return to a 'COVID-19 normal' state. We will focus on research and discovery to deepen our understanding of renters' financial support needs, with the aim to iterate Dear Landlord according to our insights. Using our learnings and evidence-based casework, we will continue to advocate with our community and government sector partners to ensure renters' rights are being protected.
We are grateful to the Helen Macpherson Smith Trust, the Ian Potter Foundation, the Lord Mayor's Charitable Foundation, and the Paul Ramsay Foundation for supporting the development of Dear Landlord. We also want to acknowledge people with lived experience who generously shared their insights to help us improve Dear Landlord.