2022: Building stronger pathways to justice
19 Dec 2022
Many people hoped 2022 would be the "year of recovery". Reflecting on what the past year has held for us, its continued interruptions and setbacks have shown that our true "new normal" is yet to be determined. 
With a global recession, the war in Ukraine, gas supply disruption, and a third consecutive La Niña, 2022 has seen us brace for rolling challenges. We were reminded that nothing benefits our communities more than fair access: access to resources, shelter, healthcare, and, of course, reliable and free legal help.  

That's why in 2022, we focused on delivering access to better-tailored resources, legal support, information, and advice to more people and community organisations than ever. Using lessons from the past few years, we continued to use innovative solutions and digital tools to provide free legal help at scale, and we continued our work addressing system-level drivers of unmet legal need.  
This work would not have been possible without the generous donations from our dedicated supporters, and we urge you to make an end-of-year contribution to Justice Connect so that we can continue building stronger pathways to justice together.  
As we welcome 2023, here is a look back at Justice Connect's most impactful moments from 2022.  
Helping not-for-profit organisations make sense of the law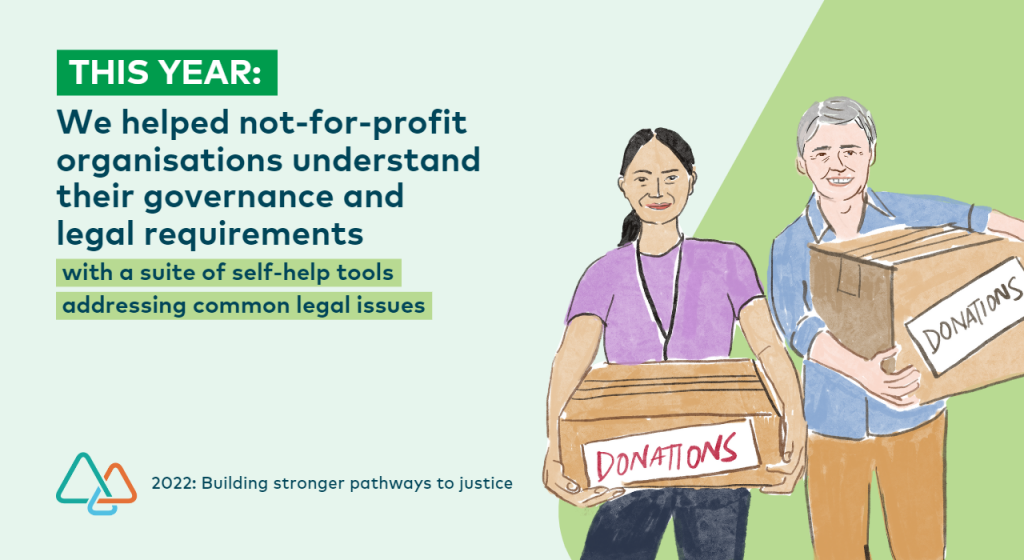 Our Not-for-profit Law program launched redesigned digital self-help tools for community organisations across Australia. In simple, plain English, the tools ask users a series of questions about their organisation, then gives them access to a downloadable, customised report to help them navigate next steps in their governance journey. 
Our user-tested tools cover common legal topics not-for-profit organisations face, including: how to start a not-for-profit organisation, establish a constitution or rules for incorporated associations, understand deductible gift recipient (DGR) status, and how to recruit, work with, and manage volunteers. 
Increasing access to legal support across the world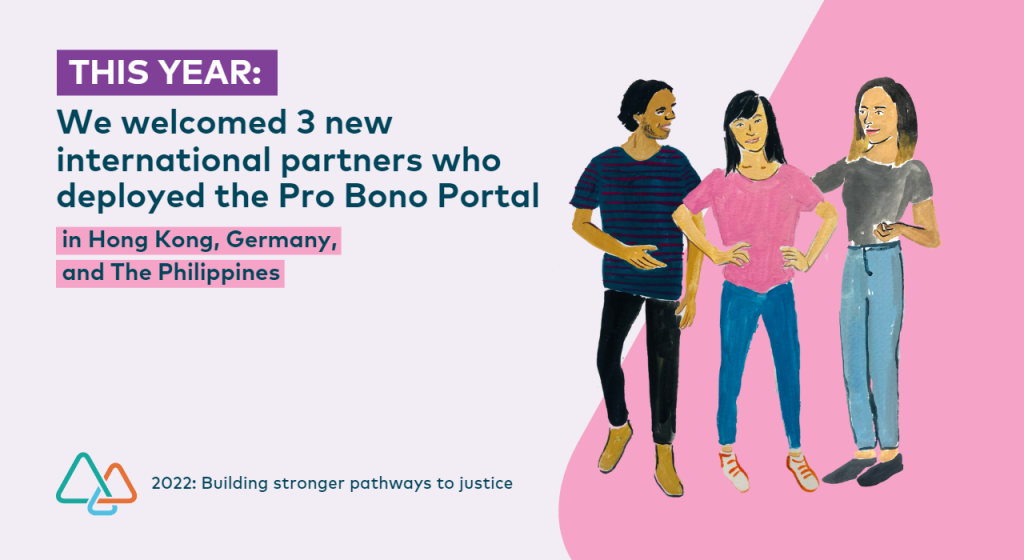 This year, our award-winning Pro Bono Portal has been licenced for free to further organisations around the world, with clearinghouses in Hong Kong, Germany, and the Philippines joining our existing licensees in the UK, Ireland, and New Zealand. The Portal facilitates access to pro bono legal support in a range of international contexts. In Germany, our partner UPJ is using the Portal to run a new project matching high volumes of refugees displaced by the war in Ukraine with pro bono lawyers. Our team assisted UPJ in developing a user-friendly intake form available in German, Ukrainian, and Russian. 
Keeping people safely housed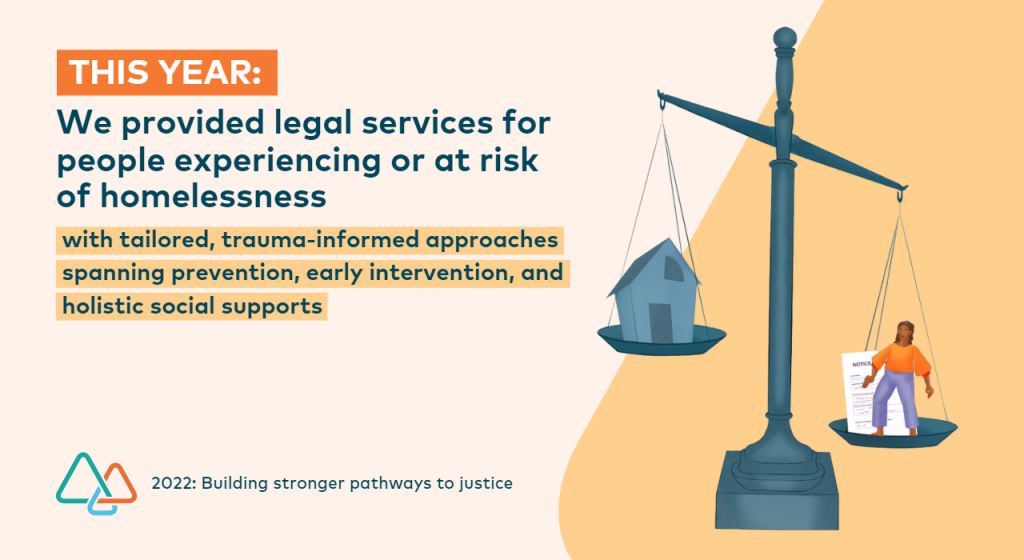 As our housing crisis worsens and the cost-of-living aggressively rises, our Homeless Law program has provided innovative legal services to keep people safely housed, and support people experiencing homelessness navigate the legal system.  
From specialised processes for representing people experiencing homelessness in court, to an online tool (Dear Landlord) for renters to understand their rights and options, we take a holistic approach to helping people avoid evictions into homelessness, and avoid the unfair criminalisation that people experiencing homelessness face. 
Developing better pathways to legal help for disaster-impacted communities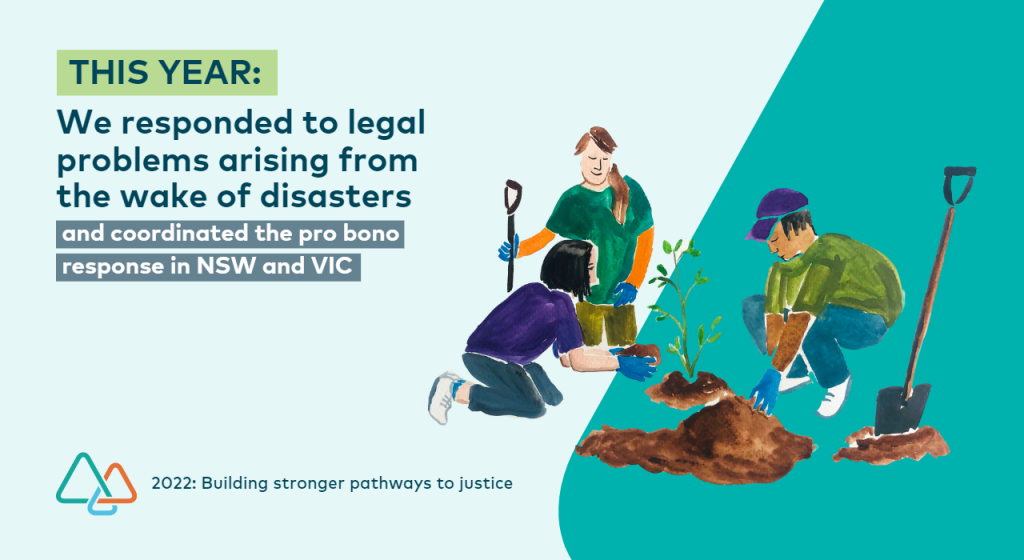 Dealing with disasters has become a constant for communities across Australia. In response, we're directly assisting communities with legal problems that commonly occur after disasters strike, like insurance, planning, building & construction, document replacement, and property disputes.  
We are also part of the state-wide networks coordinating pro bono disaster response in New South Wales and Victoria, and are working with frontline services and local Community Legal Centres (CLCs) to ensure more peoples' legal needs can be met: before, during and after times of crisis.  
Publishing 300+ self-help resources, including our first Easy Read resource
In order to effectively self-advocate, people need to understand the legal options available to them. Many people have had their traditional support networks disrupted over the last few years, and using the internet to search for help has become a common occurrence in our day-to-day life.  
To be there for people who need us, whenever they need us, we publish online legal information that can help individuals, and not-for-profit organisations, make sense of their situation. We follow specific design principles to ensure this information is accessible to many people, which is why we're so proud that these resources have been viewed 662,036 times in 2022.  
This year we developed our first Easy Read version of our Powers of Attorney in New South Wales resource, designed to make legal information more accessible for people with a learning disability, people who are not familiar with English, people with dyslexia, or people with low literacy. 
  Complex legal issues are on the rise.
Together we can provide the vital legal services needed to overcome them.
Donate today
Increasing access to pro bono legal support for Community Legal Centres (CLCs) and the people they assist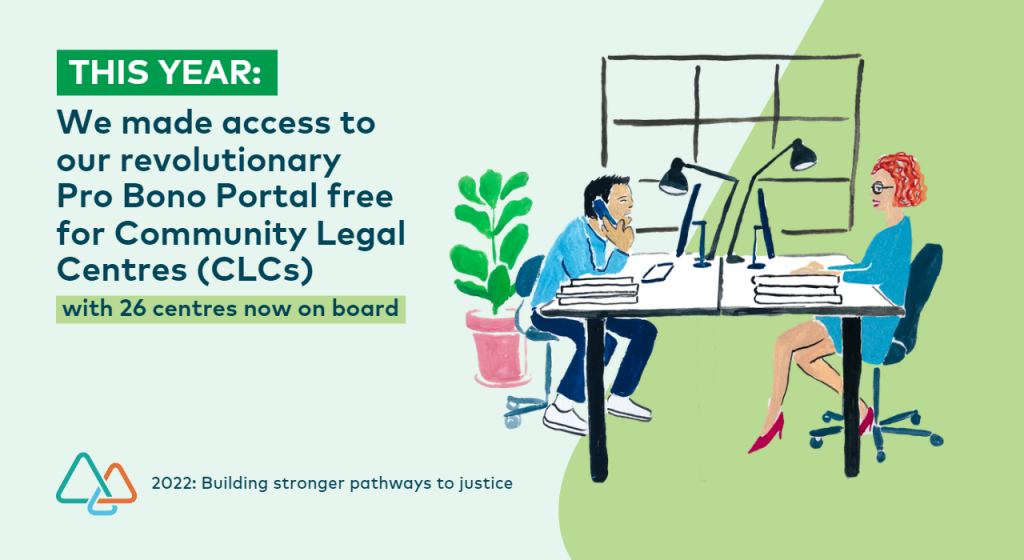 Justice Connect's Pro Bono Portal connects lawyers who are ready and willing to help with clients who need free legal assistance. This year, we've continued to make this platform available to CLCs for free and moved from a pilot phase to broad distribution, with all CLCs in Victoria and NSW able to access the Portal to connect with over 10,000 pro bono lawyers at 170 law firms.  
So far, 26 CLCs are using the Portal to build relationships with pro bono law firms, and match unmet legal needs within their community with lawyers who have the capacity. Ultimately, this project takes a whole-of-ecosystem approach to help CLCs grapple with local legal problems, and be able to help more people access justice. 
Bringing the sector together to collaborate on digital innovation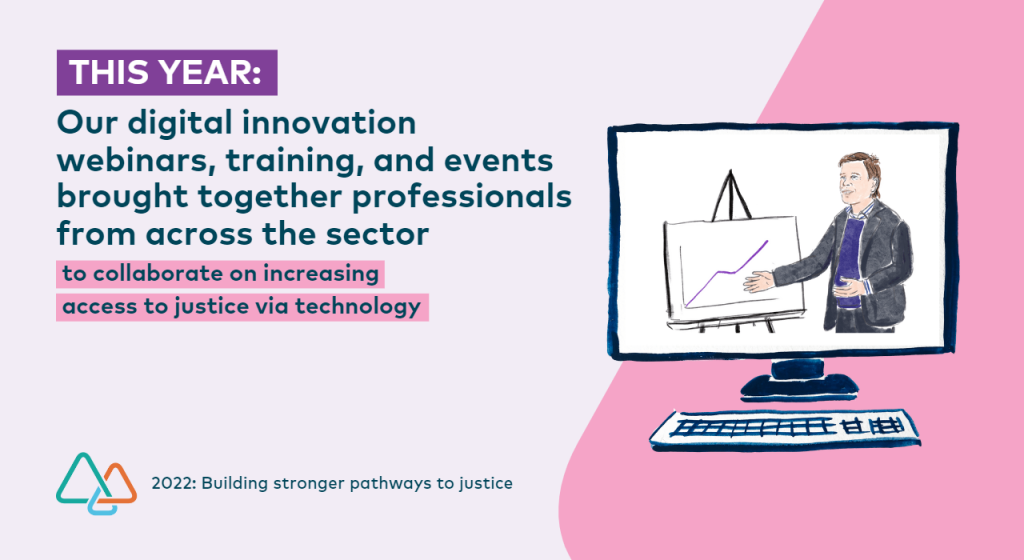 Access to reliable information and relevant updates concerning the law matter not only to our clients, but also to our partners and collaborators across the sector. 
This past year, our Innovation & Engagement team held a range of online events, training sessions and webinars. In May, our digital technology and innovations sessions brought together 254 people to discuss best practice and our shared vision for access to justice technology. And in October, we hosted four workshops and a presentation on the Pro Bono Portal to an international audience at a pro bono sector conference in the UK. 
Sharing our artificial intelligence (AI) model to create clearer entry points to legal support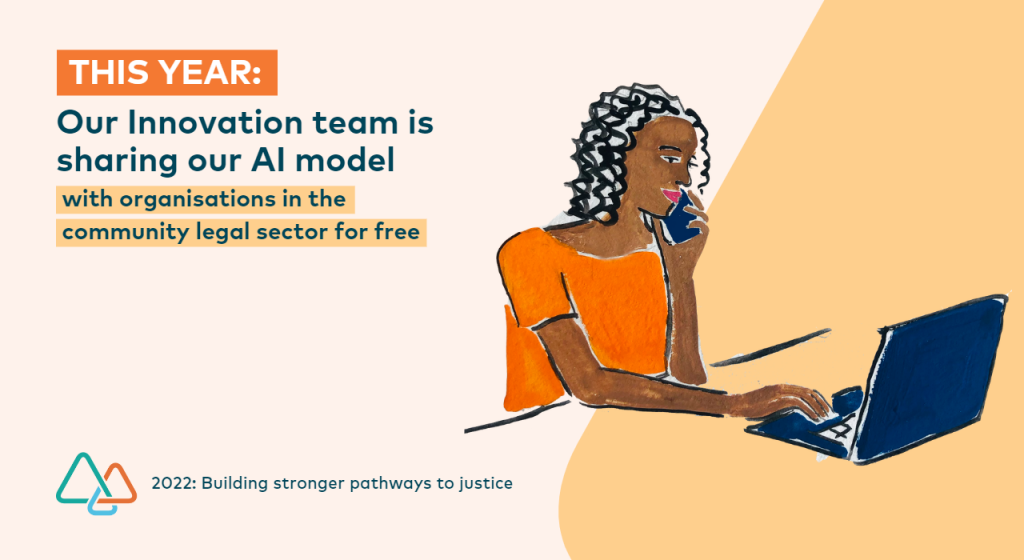 Our diagnostic natural language processing model is currently being trialled across a portion of Justice Connect's online intake processes. Over the course of the trial, we have observed that when the AI is deployed, we see measurably higher completion rates. This means people have been able to better identify the legal issues they may be facing and are experiencing a clearer pathway to justice. 
To enable our community partners access to this cutting-edge model, we are currently working to make the language processor available to the community legal sector for free. This will allow them to incorporate the AI model into their own intake processes and successfully diagnose potential areas of legal need within the everyday language used by their communities. 
Building new technology for law firms to improve their pro bono practice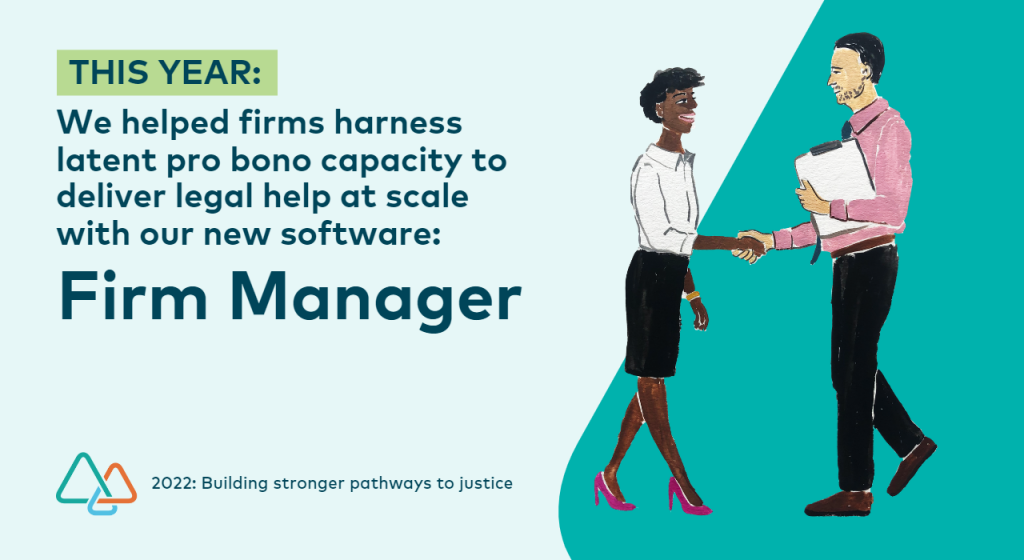 Responsiveness remains one of our core values. So, when our pro bono partners asked for a tool that would help them better manage their pro bono portfolio within their firm, we responded by building our latest platform: Firm Manager. This new system gives firms better visibility over their pro bono capacity and offers powerful reporting to analyse and measure a firm's pro bono practice impact. Using Firm Manager, firms can fully harness their latent pro bono capacity and deliver more legal assistance to people and not-for-profits who wouldn't otherwise be able to retain a lawyer, as well as effectively measure and communicate the impact of their pro bono work. 
Celebrating two prestigious awards for our innovation work
Our work creating pathways to better and more accessible legal resources has been recognised twice this year. Justice Connect is proud and honoured to have received a Not-for-profit Technology Award and a Legal Innovation Award (UK) in recognition of our efforts increasing access to justice with our Global Pro Bono Portal. 
2022 has been full of challenges, and we had to embrace more of "the unexpected". 
In response, we have focused our efforts on greater preparedness and responsiveness to meet rising legal needs. We are building better and more impactful tools and solutions to establish clearer pathways to free legal assistance. 
You can support our work by making a tax-deductible donation to Justice Connect today. Every gift helps us create greater access to justice for individuals and community organisations across Australia. Together, we are taking steps towards a greater, more connected justice system.