Adapting Dear Landlord in response to renters' changing legal need during COVID-19
8 Dec 2021
In September 2021, the Victorian Government announced the new COVID-19 Rent Relief Grant program to help renters experiencing financial hardship due to the pandemic. If eligible, a one-off payment of up to $1,500 will be paid directly to a renter's rental provider. 
To be eligible, renters must meet a set of criteria which includes having a rent reduction agreement in place anytime since 27 May 2021.  
Dear Landlord was updated to help renters request a rent reduction and prepare Victorian rent relief grant application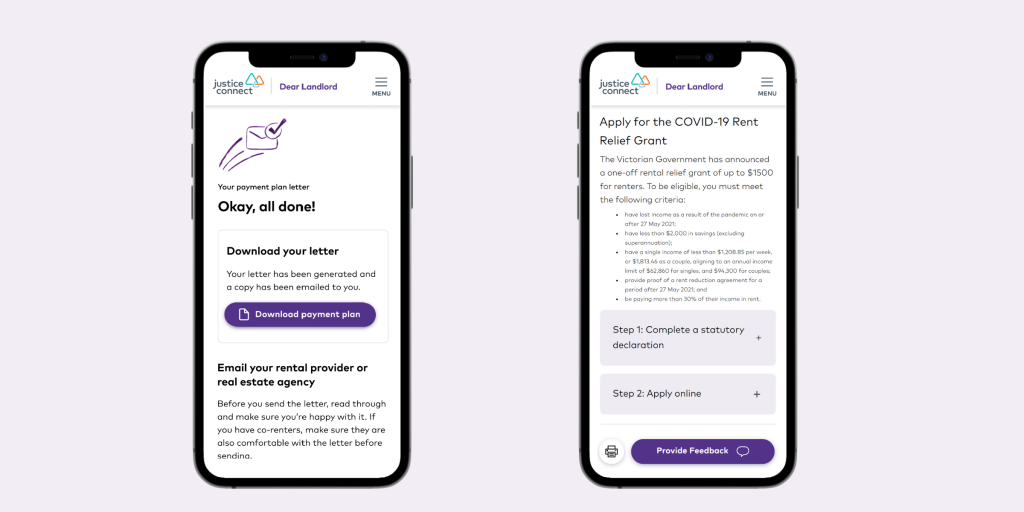 Renters can use Dear Landlord to request a rent reduction from their rental provider (left) and prepare for their rent relief grant application (right)
We've updated our free, self-help tool Dear Landlord to help renters: 
Generate a rent reduction request letter to their rental provider;

 

Understand if they're eligible to apply for the rent relief grant; and

 

Prepare an application for the rent relief grant.

 
By answering a few questions, the tool guides the renter to the best options based on their circumstances, including further financial support and free legal help where needed. The questions are written in plain English, with helpful tips along the way to help renters answer the questions based on their current situation. 
Use Dear Landlord
What's the difference between a rent reduction agreement v rent deferral?
A rent deferral means that you continue to pay the same amount of rent, but have agreed with your rental provider to delay the payment for a specified amount of time. 
Example 1: If you normally pay $1,000 a month in rent, but have agreed with your rental provider to postpone payment this month and pay $2,000 next month instead, that's a rent deferral. 
Example 2: If you've agreed with your rental provider to pay a reduced amount of $500 instead of $1,000 a month in rent, that's a rent reduction. 
To clarify the distinction between a rent deferral and a rent reduction, we have included a 'tip' in Dear Landlord explaining the difference between the two, and how it impacts a renter's grant application. 
As Victorians continue to endure the COVID-19 health crisis and face financial and housing pressures, we'll be making sure that Dear Landlord can adapt to the challenges they face. We'll be continuing to respond quickly and in real-time to snap lockdowns; notifying renters of available government support; work on integrating financial support and other resources; and rolling out significant evidence-based improvements to the user-experience flow and accessibility of the tool.  
Using the insights and rich data gathered through Dear Landlord, we are also continuing to advocate on behalf of Victorian renters around systemic issues and trends, including ongoing advocacy with the Victorian Government for more financial and legal supports during COVID-19. 
If you need help preparing your application for the Victorian Government's Rent Relief Grant, our online self-help tool Dear Landlord can guide you through the process. 
We are grateful to the Helen Macpherson Smith Trust, the Ian Potter Foundation, the Lord Mayor's Charitable Foundation, and the Paul Ramsay Foundation for supporting the development of Dear Landlord. We also want to acknowledge people with lived experience who generously shared their insights to help us improve Dear Landlord.