Dear Landlord wins 2021 Good Design Award, Best in Class in Social Impact
14 Oct 2021
We are thrilled to announce that our free, online self-help tool for Victorian renters Dear Landlord has received a prestigious Good Design Award – Best in Class in the Social Impact category – in recognition of outstanding design and innovation.
Renters facing eviction often don't know their legal rights and can feel overwhelmed. That's why we designed Dear Landlord to support renters every step of the way. Building on our Homeless Law program's 20+ years of tenancy, housing and homelessness expertise, Dear Landlord scales our reach and helps renters in Victoria take action to avoid eviction.
Dear Landlord can help renters write a letter requesting a payment plan or a rent reduction to their rental provider, prepare for VCAT hearings, understand the eviction process in plain language, and get guidance on where to seek further financial and legal support.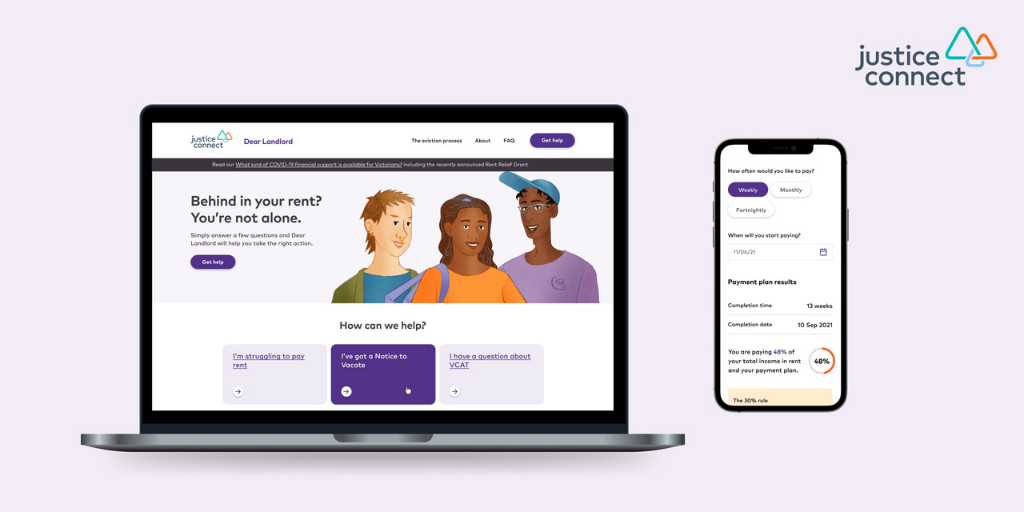 Dear Landlord has responsive, logic-driven pathways enabling renters to determine where they are in the eviction process, understand their options and act on their rights.
2021 Good Design Awards: Best in Class in Social Impact
The 2021 Good Design Awards attracted a record number of submissions with 933 design projects evaluated by more than 70 Australian and international jurors, including designers, engineers, architects and thought leaders. Each entry was evaluated according to a strict set of design evaluation criteria which includes good design, design innovation and design impact. Dear Landlord was one of only 28 projects that qualified for the Best in Class accolade.
The Good Design Awards Jury commented:
"A brilliant example of the types of design work we want to highlight through these Awards. Great integration of all aspects from the identification of an area of opportunity/need, the iterative approach to design that allowed for testing and refinement with the target user, but doing all of this with an eye for what makes the delivery of the work scalable and more cost effective at the same time. This strong human-centred design approach has resulted in a smart, accessible solution that meets renters' needs. Terrific project. Well done."
A human-centred approach to problem-solving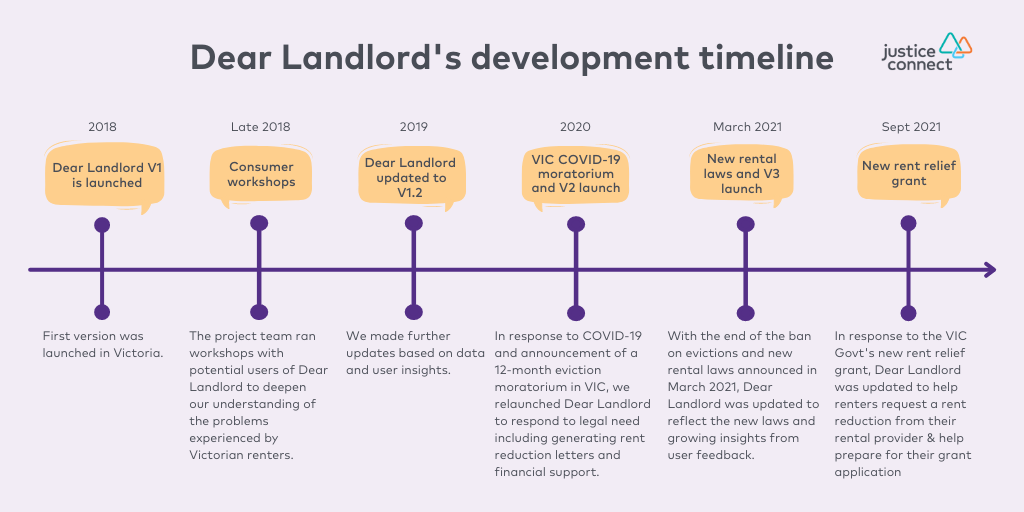 Since 2018, we have continued to evolve Dear Landlord – responding to the changing needs of renters in Victoria and addressing the challenges heard directly from users of the tool. We conducted co-design workshops, 1:1 in-depth interviews, feedback surveys, and user testing – enabling us to develop a tool that responded to increasing numbers of people behind in rent due to COVID-19 and the introduction of Victoria's new tenancy laws in March.
By identifying Dear Landlord's core user types and understanding their unique challenges and circumstances, we've been able to evolve the tool's design decisions and digital outreach strategies. We have also been able to use the learnings from Dear Landlord in our advocacy calling for stronger legal and financial protections for the increasing number of renters facing eviction into homelessness.
We put the people who need our tools at the heart of our process. By equipping renters to understand their rights through clear, helpful pathways co-designed with people experiencing rental stress, we can help prevent avoidable evictions.
Use Dear Landlord
We are grateful to the Helen Macpherson Smith Trust, the Ian Potter Foundation, the Lord Mayor's Charitable Foundation, and the Paul Ramsay Foundation for supporting the development of Dear Landlord. We also want to acknowledge people with lived experience who generously shared their insights to help us improve Dear Landlord.