Free resource to make volunteer recruitment safe and simple
27 May 2019
Volunteers are the backbone of the not-for-profit sector, helping to deliver critical services to vulnerable groups in our community. Despite relying on the work of volunteers, not-for-profit organisations often lack the support and expertise they need. Organisations struggle to properly support their helpers. They have all the best intentions, but struggle to ensure recruitment processes are safe and fair both for volunteers and for the beneficiaries of their work.
That's the problem Justice Connect's new e-learning module and national volunteer app is set to solve.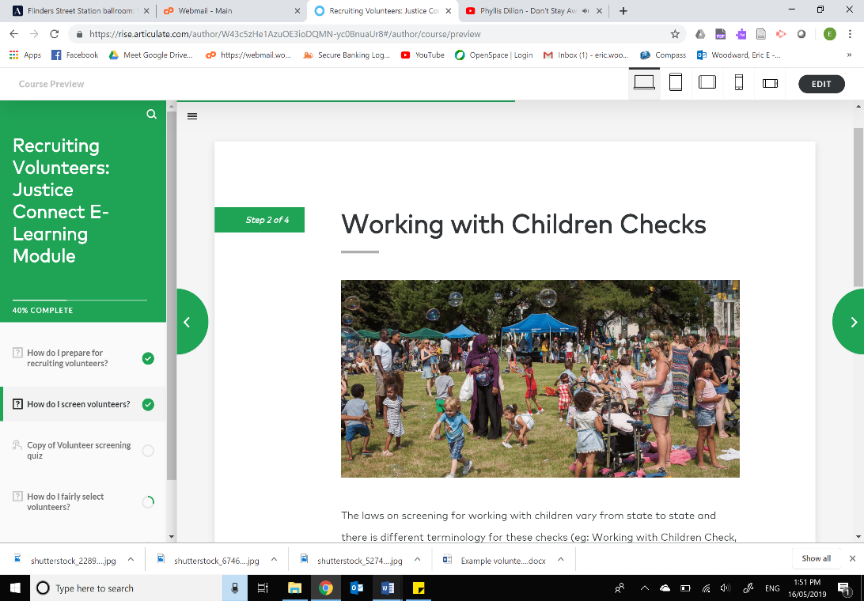 "We know many organisations struggle to understand how the law applies to volunteers. They want to do the right thing, but the information can be dense and confusing. That's why we've created new online learning tools to help volunteer managers navigate crucial stages of the volunteer relationship" explained Juanita Pope, Head of Justice Connect's Not-for-profit Law program.
The new e-learning module – launched last week as part of Volunteer Week – includes interactive activities, instructional videos and realistic scenarios to ensure organisations get the answers to all their questions about recruiting volunteers.
This e-learning module is designed to empower not-for-profits to prepare to recruit volunteers, undertake screening and ensure fair and non-discriminatory selection processes.
"To accompany the e-learning module, our in-house experts have developed a customised online tool to help organisations work effectively with volunteers. This app complements the National Volunteer Guide and our series of national volunteer webinars," explained Ms Pope.
The web app offers a customised online learning experience to help not-for-profit boards and volunteers managers understand the key legal obligations towards their volunteers. After completing a series of questions, organisations are provided with an opportunity to print a report containing an overview of the legal issues, recommendations and links for further information all based on individualised responses. Key topics include recruitment, safety, unlawful workplace behaviour, managing performance and ending the volunteer relationship.
These resources are part of a package of legal support for volunteer organisations funded by the Australian Government Department of Social Services.
Best of all, it's all free. These comprehensive but succinct tools can be completed on a phone, tablet or computer and has a number of accessibility features.
Justice Connect Not-For-Profit Law provides legal information, advice and training to not-for-profit community organisations. Its website offers free information, fact sheets and interactive tools on issues from starting a community group, to managing tax and insurance, to winding up or merging with another organisation. It is a free service and can be found at nfplaw.org.au.