How Not-for-profit Law's online legal help empowers community organisations to be stronger and more effective
25 Aug 2023
Not-for-profit organisations play a crucial role in Australian society. Their ability to run and govern themselves effectively directly impacts the help they can provide to their communities. Therefore, equipping them with the legal information they need ensures a strong, empowered community sector, which benefits all of us.
For years, Justice Connect's Not-for-profit Law has been increasing the accessibility of online legal help for community organisations through easy-to-understand, plain language self-help resources and tools. We understand that not everyone with a legal question needs to see a lawyer. Sometimes they just need information to help clarify their options, get direction, and take action themselves. That's why a key pillar of our strategy is producing, promoting, and maintaining our library of self-help tools and resources.
Our website houses 300+ free resources, including fact sheets, guides, templates, and five self-help tools, to assist at all stages of a not-for-profit's lifecycle: from getting started to winding up. Our resources span across 10 key areas, including governance and directors' duties, managing employees and volunteers, contracts, funding, and collaboration. During FY23, we reviewed and updated 186 resources and launched one new resource.
Our annual Online User Survey gathers feedback from our most engaged digital users to help us understand their experience utilising our online services. The results indicate the valuable role our self-help resources play in supporting community organisations to learn about their legal obligations and navigate complex laws.
Building capability and confidence through online legal help means organisations grow stronger, more effective and can focus on helping more people in need.
Here's our summary and insights based on what our users have told us.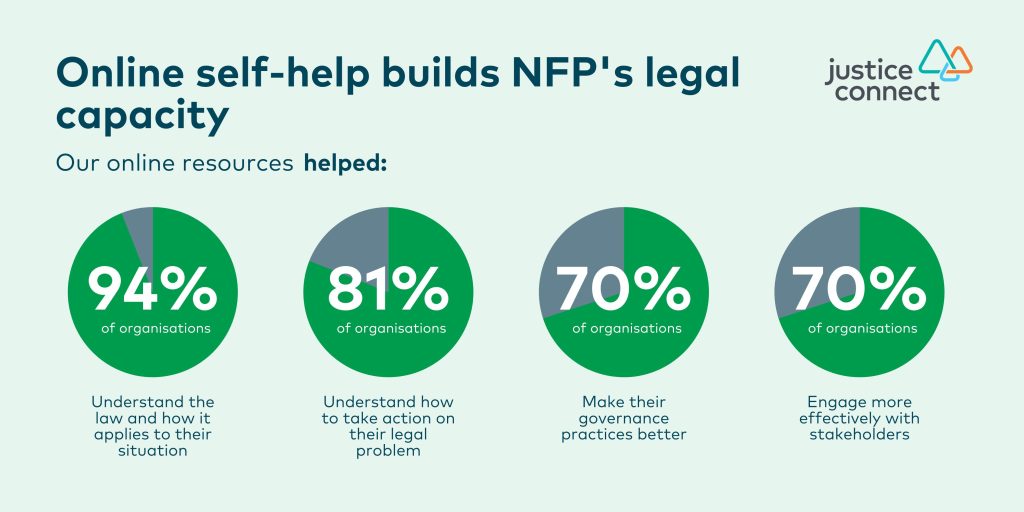 Investment in outreach activities has grown our impact
For a resource to be effective, not-for-profits must be able to find it, when they need it. Most users reported they found Justice Connect Not-for-Profit Law resources 'by themselves', suggesting our resources are visible and accessible to organisations when they are experiencing a legal issue. When asked 'How?', the most common route was from a search engine. We've spent time understanding how individuals go about searching for information, and updated all corners of our website to have the best chance of appearing in search engines for relevant search terms, increasing our search engine traffic by 12%.
And that's just one of the ways people find us. Our effective multi-channel outreach strategy helps us to equip people with the right knowledge at the right time, increasing our annual user sessions by 30%. We use consumer-focused outreach to grow our reach, scale our legal services to assist more not-for-profits, better understand our users, and inform the design of our services. By meeting community organisations in the online environments they're already using, we work to build trust and help them become aware of resources applicable to their situation.
A well-designed digital infrastructure enables users to find the information they need
We continuously iterate our resources, and the digital platform that houses them for usability and accessibility, in line with better practice tactics. As part of our ongoing commitment to providing high-quality resources that meet the current and emerging needs of community organisations, we have also built-in feedback loops that include end-users in our research, design, evaluation, and enhancements.
Measuring the ongoing impact of this redevelopment is our priority and is integral to meaningful, evidence-based iterations that will have a high impact on our users.
Our survey results reinforced that there is a growing level of satisfaction with our website, allowing more people to use our resources:
91% agree or strongly agree they can easily find information
89% agree or strongly agree they can easily navigate the website
More organisations operating across Australia are using our resources
More organisations operating in states and territories outside NSW and Victoria are using our services online, compared to 2022. While most of our online users visit from NSW and Victoria, and these numbers have increased, this year's results show we are continuing to expand our reach across other jurisdictions.
We are also reaching more organisations operating in rural, regional, and remote (RRR) areas with 38% of users reporting their organisation was located in RRR areas.
Online legal information increases the capacity of community organisations to help themselves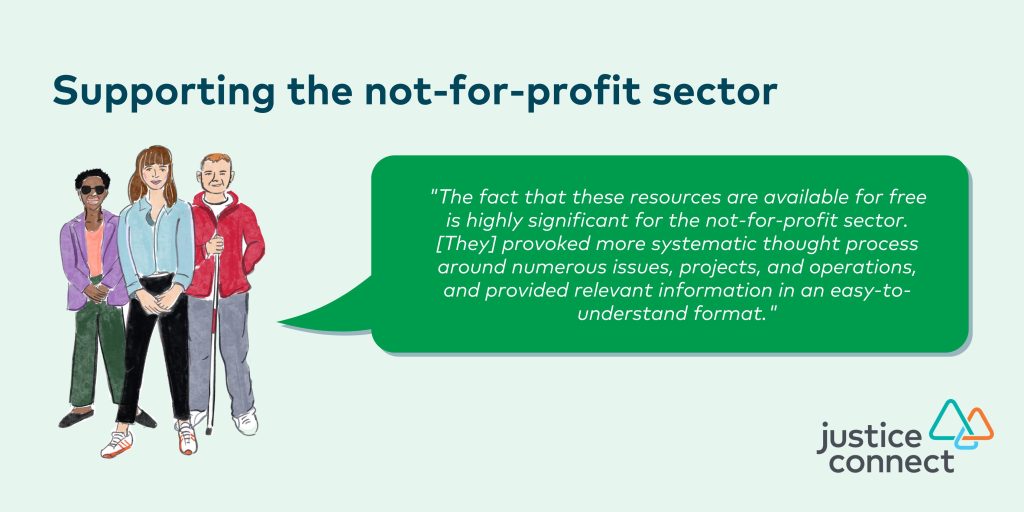 Responses show us that resources are most effective in building knowledge by giving relevant information and helping them understand the law and how it applies to their organisation. Our online resources increase the capacity of organisations to self-help by helping people:
Find relevant information (97% agree)
Understand the law and how it applies to their situation (94% agree)
Understand how to take action on their legal problem (81% agree)
Have the confidence to take action (82% agree)
When asked to tell us more, a user told us: "The fact that these resources are available for free is highly significant for the not-for-profit sector. [They] provoked more systematic thought process around numerous issues, projects, and operations, and provided relevant information in an easy-to-understand format."
Resources help organisations take action to comply with legal obligations and prevent future legal problems
A better understanding of the law means that organisations know their legal obligations and know the options available to them. With this understanding, staff, board members, and volunteers can then make an informed choice on what to do next and take action if they need to.
57% of people learned about legal problems they might experience in the future and can therefore intervene earlier to avoid them being issues.
While some users indicated they use our resources to reinforce they are on the right track, 50% of users indicated they acted after using our resources. Of these users that took action, 58% did so without the help of a lawyer. In their opinion, users told us the action helped them to:
Comply with legal obligations (90%)
Prevent a legal problem in the future (78%)
Resolve a current legal problem (60%)
Online self-help contributes to stronger and more effective community organisations
Feedback showed that our resources help community organisations to be stronger and more effective in the long-term by:
Making governance practices better (70% agreed)
Engaging more effectively with stakeholders including volunteers, employees, or clients (70% agreed)
Making their own mental wellbeing better (63% agreed)
Helping their organisation's ability to deliver on its purpose or aims (57% agreed)
Our users also told us resources helped them to save their organisation time (73% agreed) and money (48% agreed), and improve their organisation's service delivery (65% agreed).
A user told us: "These very high-quality resources help us to provide a safe and legally compliant workplace for staff and volunteers. They therefore enhance our provision of a safe and high-quality service to our clients."
Organisations achieve better governance practices after using our resources, engage more effectively with stakeholders and deliver on their purpose – enabling them to better help and help more communities.
About Justice Connect's Not-for-profit Law
For over 12 years, we've helped hundreds of thousands of community organisations with legal, regulatory, and governance issues through our effective, integrated, multi-intensity services.
We achieve impact at scale by delivering a combination of one-to-many and one-to-one services.
Each year, we design and deliver free online resources, tailored training, and individualised advice services to organisations and their staff, volunteers, and boards to help them achieve good governance and make sense of complex laws. We take the data and evidence from our service delivery to advocate for better laws and policies for the community organisations we assist.
Learn more