Increasing the accessibility of online legal help for not-for-profits
12 Dec 2022
Justice Connect's Not-for-profit Law is proud to launch our redesigned digital self-help tools for community organisations across Australia. These tools are designed to help even more not-for-profit organisations achieve good governance, and make sense of the law.
Explore our redesigned self-help tools for not-for-profits
By conducting user testing and research, we designed tools with enhanced usability, and are using targeted outreach strategies to expand our reach to more not-for-profit workers who can benefit from them.
Responding to sector need
Over the last three years, we've seen increasing demand for our services due to significant legal need faced by 600,000 not-for-profit organisations and their volunteers. Many of them are smaller organisations with limited resources, or entirely volunteer-run.
From our rigorous research and user testing, we knew that our legal self-help tools were a proven and effective use of digital technology to prevent legal problems online. To date, they have helped not-for-profit groups navigate complex legal requirements through customised and plain language digital supports. The tools ask users a series of questions about their organisation – in simple, plain English – then generate a downloadable, customised report to help them navigate next steps.
But we also knew that these tools are not reaching certain groups that would greatly benefit from having access to this free, tailored legal support. We sought to extend the reach of the self-help tools by:
Championing a user-centered design approach by working with our target audience to implement user experience and accessibility iterations, and
Developing and executing a targeted, multi-channel outreach strategy to boost awareness.
NSW Constitution Tool landing page
Incorporating end-users into our design process
We undertook a process of 'discovery' to understand the experiences, expectations, and needs of people and organisations using our tools. This included defining the archetypes of our key users, undertaking an heuristics evaluation, completing a desktop review and data deep-dive, and defining a measuring, evaluation, and learning framework.
Equipped with an understanding of the motivations and barriers organisations face we redesigned the tools and tested them with our end-users to validate that our new design decisions were the right ones.
From including our users in the design process, we learned important information about:
Contextual factors about when and how people find the tools
How people engage with the tools to navigate and understand information
How people engage with the different content formats and language within the tools
For example, we learned that when users were digesting information within the tools, they could do this more efficiently with indicators to set their expectations of where they are in the process. We broke down the content into clear sections and have created summary pages that clearly show users which stage they've progressed to, and what's still to come.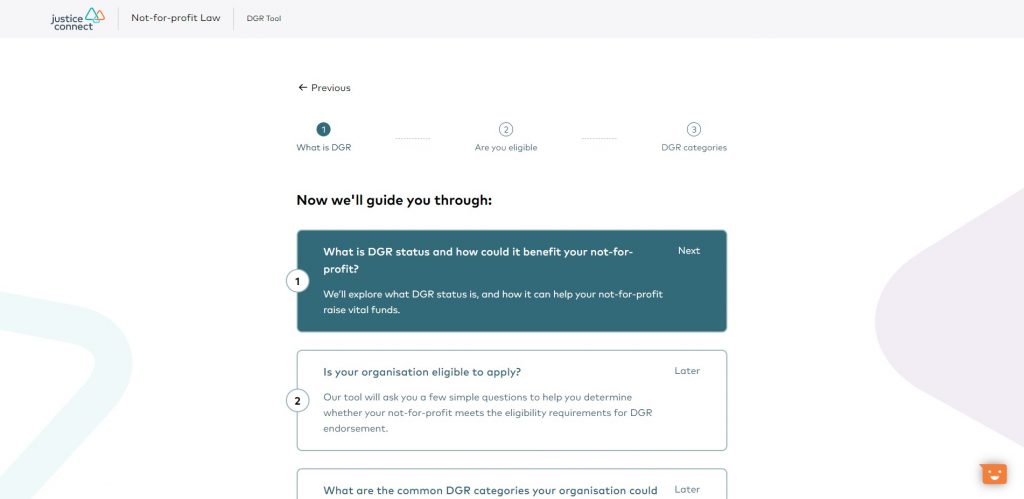 Deductible Gift Recipient (DGR) Tool summary page
We synthetised these learnings by viewing them in the context of the 5-stage help-seeker journey, articulated through Justice Connect's Joining Up Justice research. The redesigned tools also incorporate best practice accessibility principles and design principles as outlined in Justice Connect's Missing Majority report.
We are proud to launch our redesigned self-help tools, which we encourage you to explore today. They cover common legal topics not-for-profit organisations face, including:
Explore our redesigned self-help tools for not-for-profits
About Justice Connect's Not-for-profit Law
Justice Connect's Not-for-profit Law program is a national legal service, offering free and affordable legal supports for not-for-profit organisations and social enterprises. We provide timely and appropriate legal support to help community organisations make sense of the law, stay legally compliant, thrive within complexity, and achieve good governance.