Launching our Joining Up Justice website
7 May 2021
Our new website summarises 5 years' worth of research on the experience of people in Australia looking for legal help and the experience of legal services delivering help.
Since 2016, we have spoken directly with hundreds of people seeking legal help and workshopped with many community legal centres, legal aid providers and referring agencies.
Our research showed that for looking for legal help is hard, confusing and demoralising for people. And for service-providers, connecting with help-seekers, handling enquiries, getting the word out, and reducing the referral roundabout is a constant challenge.
That's why we have launched a new website, Joining Up Justice, that summarises our research and sets out some of the opportunities to improve the issues we identified. It presents and maps the experience of looking for help from the perspective of both a help-seeker and a legal service provider.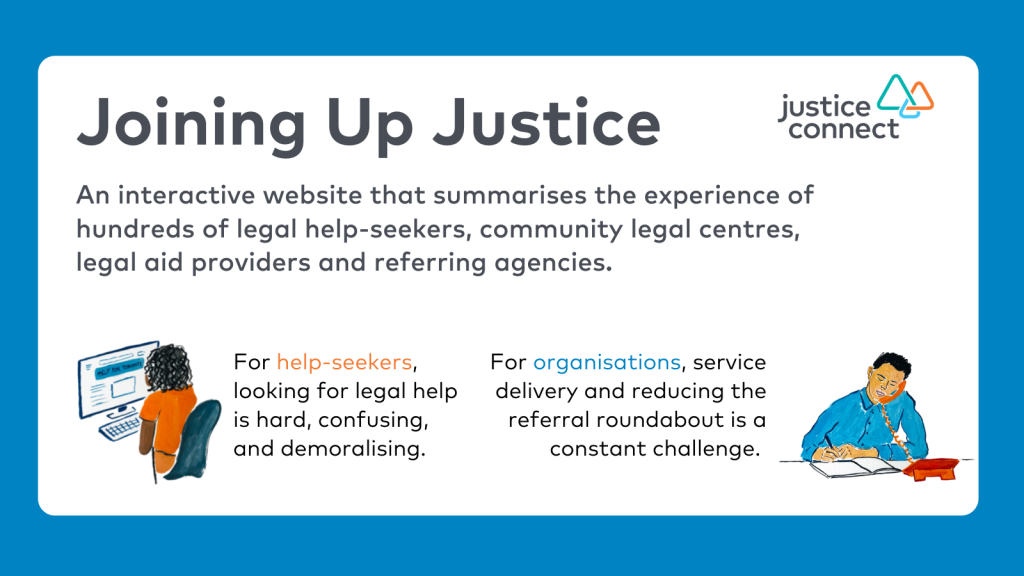 Opportunities for technology enabled and ecosystem-level solutions to address common pain points
The website is set up as an interactive journey map, told from the perspective of June, whose story is presented throughout the site. The website allows you to interact with June's journey as she engages with the legal assistance sector in the context of solving a housing issue.
Throughout the journey you are able to see the interactions June has with a legal service provider and better understand common pain points from both the perspectives of a help-seeker and the assisting organisation.
Each stage also presents opportunities to address these pain points, as identified by the people and organisations that have participated in our research.
View the Joining Up Justice website
We will continue to enrich the website with further materials to help the legal assistance sector take action to address pain points and seize opportunities to make improvements.
We are very grateful for the Victorian Legal Service Board's funding of Justice Connect's work to support more joined up justice agencies and justice systems across Victoria.