12 months on from Victoria's new rental laws, here's what we've learnt
22 Jun 2022
In March 2021, Victoria's sweeping new rental laws came into effect. To reflect these widespread changes, we redeveloped our free self-help tool for renters in Victoria to help them avoid evictions and stay safely housed.
Dear Landlord has been supporting renters in Victoria since 2018, helping people understand their rights, build confidence, and take steps early to get back on top of their rent payments.
We've taken a human-centered design approach to developing Dear Landlord, using co-design workshops, 1:1 in-depth interviews, feedback surveys, and rigorous user testing to continuously deepen our understanding of renter's needs when facing eviction.
12 months on from Victoria's rental reforms, we're sharing a summary of our learnings and insights from October 2021 to March 2022. You can also revisit our insights from March to September 2021.
Insight 1: As Victoria emerged from COVID-19 lockdowns, renters faced ongoing financial hardship
For the first six months after Dear Landlord's re-launch, we saw renters continue to face more financial hardship than ever before. This continued into the following six-month period, where the average rent owed by Dear Landlord users was $2,339, and 95% of users were less than $3,050 behind in rent.
Using our Dear Landlord data and evidence from frontline service delivery, we advocated for more support for Victorian renters to stay housed during COVID-19. In September 2021, the Victorian government announced a temporary Rent Relief Grant of up to $1,500 to provide more financial support to renters.
We then rapidly updated Dear Landlord to empower renters to understand their rights and step through how to access the Rent Relief Grant, including how to negotiate a rent reduction with their rental provider.
In the following month (October 2021), the creation of documents requesting rent reductions overtook payment plans for the first and only time since we added this additional flow to Dear Landlord. Despite this, only 25% of all applications were approved by Homes Victoria, leaving a substantial group of people without financial support that could have kept them safely housed.
Recognising the need for better financial support, we developed a new self-help resource about What kind of COVID-19 financial support is available for Victorians?, which saw a 400% increase in traffic and over 52,000 views across the six months.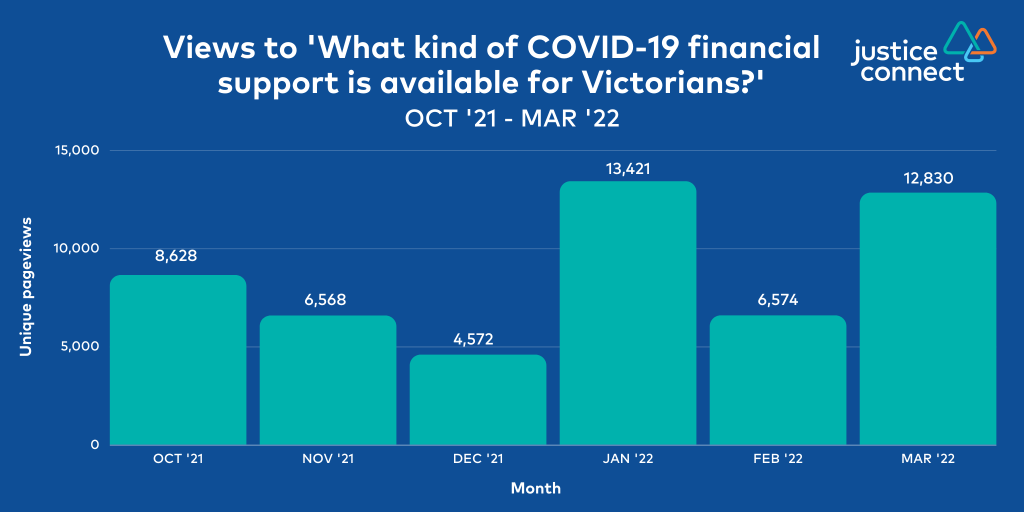 With the ongoing impact of COVID-19 on renters' financial circumstances, we are continuing to advocate to ensure that people have access to the financial and legal supports they need to stay safely housed.
Insight 2: Health issues increased financial pressure
In the first six months of the new rental laws, unemployment or reduced hours impacted renters most when it came to paying rent. However, this shifted in the second half of the year post-rental reforms as the pandemic landscape changed, with ill health the top reason reported for being behind in rent between October 2021 and March 2022.
This aligns with the spike in COVID-19 cases over December and January as restrictions lifted and a new, more infectious strain of COVID-19 circulated, which impacted people's ability to work due to ill health or strict close contact isolation requirements. For people unable to work from home, particularly for the casual workforce without sick leave entitlements, this meant a loss of income for work missed during lengthy isolation or recovery periods.
In March 2022, the Victorian Government recognised the impacts of COVID-19 on casual workers and people who are self-employed by introducing the Victorian Sick Pay Guarantee payment, enabling access to financial support for Victorian workers who need to take time off when they are sick or need to care for loved ones, but are not entitled to paid sick leave. More than 150,000 workers are expected to be eligible in the first phase of the Victorian Sick Pay Guarantee, which is the first payment of its kind in Australia.
Insight 3: Renters looked for financial support early
Dear Landlord builds in housing and financial supports and resources tailored to the user's circumstance. The Housing Access Points, which administer one-off payments towards rent through the Victorian Government's Private Rental Assistance Program, remain the highest clicked support link (39%), increasing from the previous 6 months (31%).
Given that 95% of Dear Landlord users were less than $3,050 behind in rent, Housing Access Points are vital for renters seeking early intervention financial support to remain in their homes. 80% of Dear Landlord users clicking through to the Housing Access Point had received a notice to vacate for non-payment of rent, but only 14% of those users had an upcoming VCAT hearing. Given renters are proactively looking for support early, these services need to be accessible for renters at the earliest sign of a tenancy at risk so that tenancies can be stabilised and we can prevent avoidable evictions into homelessness.
Insight 4: Dear Landlord provides positive long-term impacts on people's housing security and wellbeing
Dear Landlord allows us to observe trends and experiences in real time. To complement the insights drawn from the use of the tool, we have developed a longitudinal study to deepen our understanding of renters' experiences, and identify the long-term impact of Dear Landlord on a person's wellbeing, housing, and finances in the 6 months after use.
Initial responses show positive long-term impact after using Dear Landlord. Of the users surveyed, 100% said Dear Landlord made their housing situation better, and that they are still in the same rental property. 75% said Dear Landlord made their mental health and financial situation better.
"It made [my wellbeing] better because I was stressing so much about it with everything else on top of that. My rent was the biggest stress trigger for me but things are much better now." — Dear Landlord user.
To see Dear Landlord in action, visit apps.justiceconnect.org.au/dear-landlord.
Use Dear Landlord
We are grateful to the Helen Macpherson Smith Trust, the Ian Potter Foundation, the Lord Mayor's Charitable Foundation, and the Paul Ramsay Foundation for supporting the development of Dear Landlord. We also want to acknowledge people with lived experience who generously shared their insights to help us improve Dear Landlord.