Cross-sector advocacy leads to protections for Victorian renters 
16 Apr 2020
After weeks of advocacy from our coalition of cross-sector 
organisations
, the Victorian Government announced new funding and protections for people at risk of losing their homes due to COVID-19. 
Alongside Tenants Victoria, Council to Homeless Persons, the Federation of Community Legal Centres Victoria and Inner Melbourne Community Legal, we advocated for better protections for renters affected by COVID-19.  
Minimising the risk of evictions and keeping people housed is essential to maintaining public health. Homelessness puts people at greater risk of contracting the virus, which has flow on effects for their well being, as well as long–term consequences for the community. Now is the time to keep people in housing.  
Yesterday's announcement by the Victorian Government of a new package provides some important protections and clarity for Victorian renters. Given the need for people to stay at home during this pandemic, this package provides critical protections to ban evictions (except in certain circumstances) and provide financial assistance to tenants in COVID-19 related financial stress.  
Support and resources for renters in
crisis
While we look forward to working closely with the Victorian Government to confirm the details and implementation of the new measures, there needs to be clear acknowledgement of the inherent power imbalance between tenants and landlords. Currently many renters—especially vulnerable renters—lack the resources that their landlords have.  
In order to ensure that renters are adequately protected, we are urging the government to provide renters with the resources and tools they need to navigate the new mediation process with landlords. Renters need to be properly resourced and protected in this process with: 
P

roper framework

s

 and principles 

for renters on 

how to reach an agreement

, as well as clear information on

 what is a reasonable rent reduction 

under 

the circumstances

. This should

 

take into

 consideration tenant's income

 

and f

inances

,

 as well as 

the 

landlord's access to land tax reductions and 

insurance

.

 

Access to legal support and advice for tenants throughout the process, including possibl

e

representation at Dispute Resolution for more vulnerable tenants.

 

Proper communication and resources to renters around their rights and options, including where to get help and how to access dispute resolution if a landlord will not engage in negotiations.

A mechanism to ensure that real estate agents pass information about dispute resolution to landlords

. This mechanism should also

ensure the good faith requirement applies equally to real estate agents.

 
Cl
ear information and access
 to 
legal advice
Now more than ever, renters need access to legal support and advice. We're already seeing an influx of inquiries regarding tenancy issues, with traffic to our Dear Landlord letter writer and resources increasing tenfold.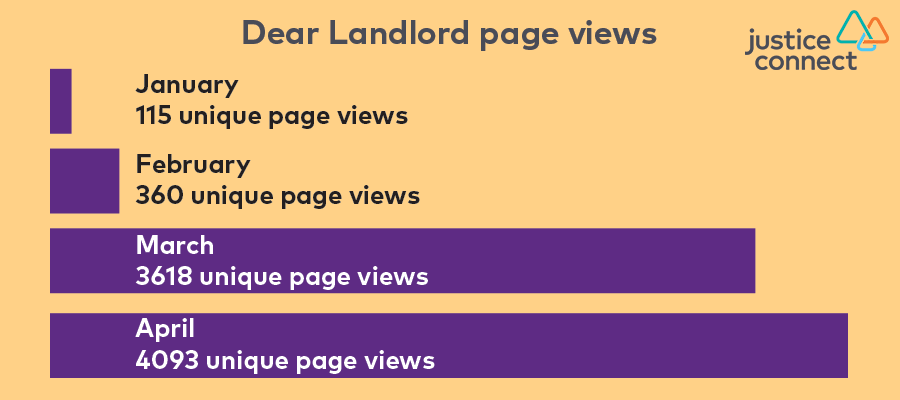 As the situation around COVID-19 continues to evolve, the legal services sector are actively working together to maximise access to legal information and assistance for affected tenants, as well as continuing to advocate for better protections for renters. The government needs to ensure that the sector is properly resourced to provide tenants with the tools and support at every stage of the negotiation process. For more vulnerable renters, that should include representation at Dispute Resolution. 
Listening to people with first-hand experience
With our decades of experience working with clients, we know what works. We use insights from our client work to make effective and impactful legal and policy recommendations. Right now, we're in a powerful position to provide on-the-ground service delivery, alongside meaningful advocacy to improve the lives of thousands of Victorian renters. 
We look forward to continuing to work closely with the Victorian government and making sure people have access to specialist tenancy legal support and fair protections. 
For more information and support for Victorian renters and how to take action early, visit our self-help resources.
Justice Connect is continuing to provide legal help to people and community organisations affected by the pandemic. Visit our COVID-19 page for the latest updates.